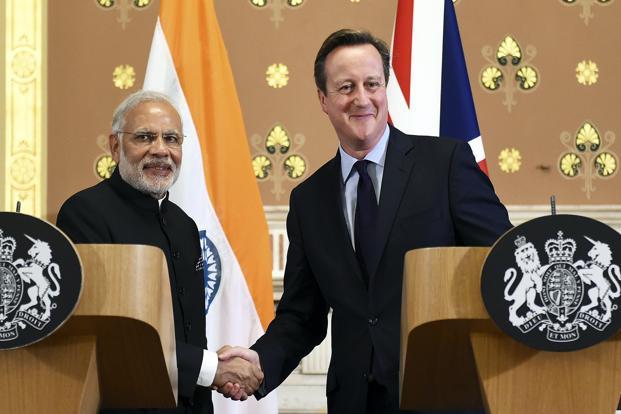 New Delhi: British and Indian companies will sign collaborations worth more than £9 billion ($13.7 billion) during Prime Minister Narendra Modi's three-day visit to the UK, his British counterpart David Cameron said on Thursday as the two nations signed a civil nuclear deal, pledged to collaborate in defence and cyber security and geared up to launch a railway rupee bond worth more than £1 billion.
Cameron told a news conference that London wanted to support Modi—the first Indian premier to visit the UK in nine years—in his vision of transforming India with improved infrastructure and education.
"We want to become your number one partner for supporting the finance needed for (Modi's) ambitious plan, making London the world's centre for offshore rupee trading with the issue of over £1 billion in bonds including the first government-backed rupee denominated bond," he said
"During this visit British and Indian companies are announcing new collaborations together worth more than £9 billion," Cameron said.
Modi described the conclusion of the civil nuclear pact as "a symbol of our mutual trust and our resolve to combat climate change".
Modi highlighted plans for India to use London as a financial base for fund-raising. "We are going to use the London market for fund-raising even more and I am happy to announced that we are set to launch a railway rupee bond in London. It is appropriate as the journey of Indian Railways started in the UK," Modi said.
After arriving in the British capital on a much-anticipated visit, Modi was given a guard of honour by the 48-member F Company Scots guard accompanied by the regimental band of Irish guards. Cameron came out from 10 Downing Street to receive Modi before the two leaders started a nearly 90-minute meeting at the office of the British Prime Minister.
Other senior ministers present include foreign secretary Philip Hammond, employment minister Priti Patel and business minister Sajid Javid. On the Indian side, the delegation included high commissioner to the UK Ranjan Mathai, foreign secretary S. Jaishankar and National Security Advisor Ajit Doval.
The UK ranks 18th in the list of India's top 25 trading partners and two-way trade in 2014-15 stood at $14.34 billion. The UK is the third largest inward investor in India, after Mauritius and Singapore, with a cumulative investment of $22.26 billion between 2000 and 2015. Modi's talks with Cameron were set to continue at the British Prime Minister's country residence of Chequers in Buckinghamshire, where he was being hosted overnight.
Also on Thursday, Cameron reiterated British support for India's candidature for permanent membership of the United Nations Security Council, while Modi spoke warmly of Britain as India's gateway into Europe.
"We continue to see the UK as our entry point into the EU," Modi, speaking via a translator, told reporters.
Cameron plans to hold an in-out vote on Britain's membership of the EU by the end of 2017.
In a speech to the British parliament later on Thursday, Modi spoke of India's "commitment to individual freedoms and rights" and hoped economic ties between the two nations would grow by leaps and bounds, with cooperation in the areas of defence equipment, science and technology, and reneweable and nuclear energy.
On terrorism and extremism, Modi told the British lawmakers that the world "must be in one voice and act in unison" to combat the challenge. He urged the world community to agree and sign and international convention on terrorism and to make "no distinction between terrorist groups".
On climate change, another area where India is expected to play a major role, Modi pointed to the importance of the principle of common but differentiated responsibility, which acknowledges the greater responsibility of those industrial nations that have contributed more to climate change than emerging economies. "Those who have the means and knowhow", Modi added, must help the world combat climate change.
Britain was the first Western country to end a visa ban on Modi, imposed after the 2002 riots in Gujarat, when he was chief minister of the state.
The day was also marked by several protests against Modi outside 10 Downing Street. Protesters included those who want to see punishment meted out to those responsible for the Gujarat riots, as well as Nepalis who want an end to the blockade of Nepal.
India will be looking at attracting more British investments into India in the areas of defence manufacturing, and there could be an agreement for Britain's BAE Systems to sell 20 more Hawk trainer jets to India.
"The primary agenda of the prime minister will be to attract more British investment into India," said Prashant Mehra, partner at Grant Thornton India Llp, an investment advisory firm with offices in Delhi and Mumbai. "India has received $30 billion in foreign direct investment in the first six months of this calendar year. At home, the Prime Minister has put in place measures to increase the ease of doing business. Abroad, he has been working on getting investments into India. Britain is a key market for India as well. Indian companies are present in numbers in Britain as the language (for business) is English, the laws are similar, Britain is strategically located (for reaching European markets). So Britain in the past few years has emerged as our top three business partners," Mehra said.
With India seen as more stable than other emerging economies, "there is a lot of optimism about India in Britain", he added.
Meanwhile, in New Delhi, the opposition Congress urged Modi to ask British authorities to deport former Indian Premier League chief Lalit Modi, who fled to London in 2010 after the Enforcement Directorate initiated an investigation against him for alleged foreign exchange irregularities.
"The Congress Party hopes and demands that the Prime Minister takes up the issue… with his British counterpart, and ensures his deportation to India at the earliest," the party said in a statement.