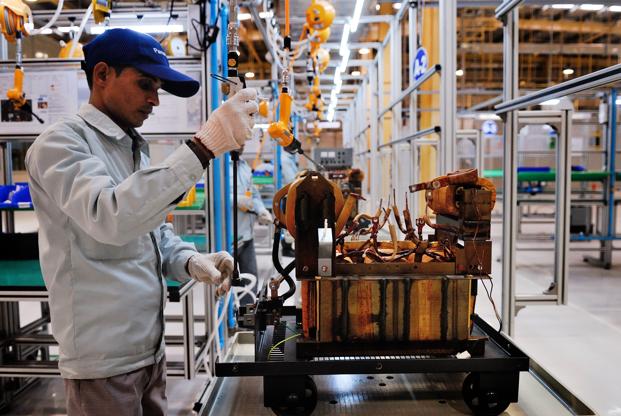 New Delhi: India's factory output expansion surprisingly slowed in September ahead of the festive season as growth in the production of consumer goods declined, raising a question mark on the consistency of industrial recovery, and inflation accelerated in October, led by a sharp increase in prices of pulses.
The index of industrial production (IIP) rose 3.6% in September, the slowest pace in four months and down from 6.3% in August. In the first half of the financial year (April-September), IIP rose 4% from 2.9% in the year-ago period.
Inflation measured by the Consumer Price Index (CPI) quickened to a four-month high of 5% in October from 4.4% in September as prices of pulses rose 42.2% because of domestic shortages.
A survey of economists by Reuters had estimated industrial output would grow 4.7% in September and retail inflation would accelerate to 4.82% in October.
The slower growth in factory output raises concerns over the erratic pace of industrial recovery in Asia's third largest economy. It belied expectations that inventory build-up, especially of consumer durables, ahead of the festive season in October and November would help boost factory output.
Consumer durables growth halved to 8.4% in September from 17% in August; consumer non-durables production contracted by 4.6% in September after a contraction of 1% in August.
Growth in manufacturing and mining output slowed to 2.6% and 3%, respectively, while electricity generation increased 11.4% in September compared with the previous month.
The volatile capital goods sector, which indicates investment demand in the economy, remained robust, with production increasing 10.5% in September.
In terms of industries, output in 11 out of the 22 industry groups in the manufacturing sector grew in September. Gems and jewellery registered the highest growth of 155.6% and production of polythene bags contracted at the highest rate of 63%.
The available set of data for October presents a mixed outlook for industrial growth. The Nikkei Manufacturing Purchasing Managers' Index (PMI), compiled by Markit, fell to 50.7 in October from September's 51.2, indicating growth in the manufacturing sector cooled to its slowest in 22 months as domestic demand softened. A reading below 50 indicates a contraction.
Some other economic indicators were more promising. Indirect tax revenue collections rose 36.8% in October from a year ago. Car sales surged 21.8% in October, the 12th consecutive monthly increase, on robust festive season purchases.
The finance ministry has indicated that economic growth this year would be around 7.5%, compared with 7.3% last year, although it is yet to formally revise its growth projection of a minimum 8.1% expansion in 2015-16.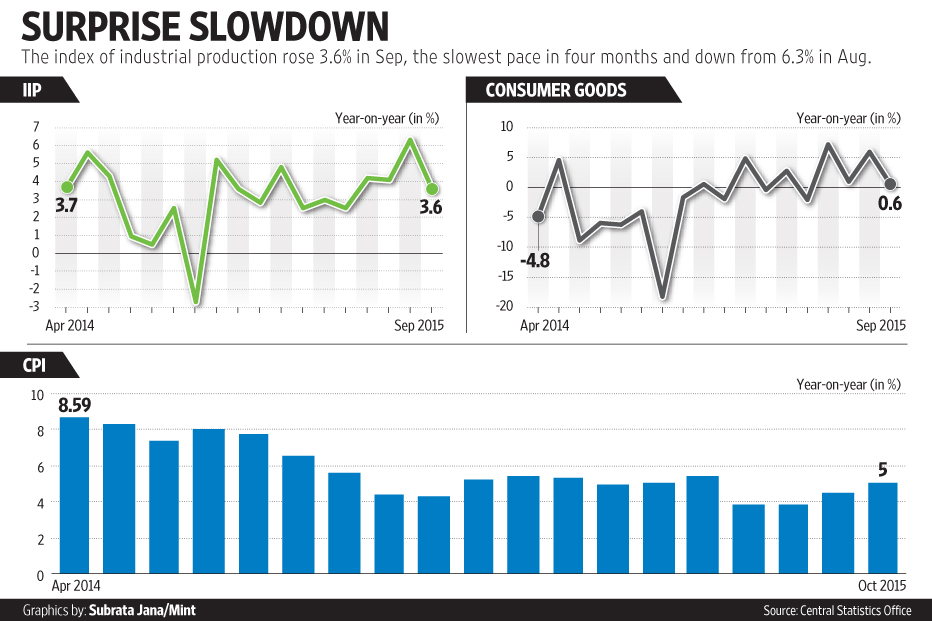 Most private and multilateral institutions have cut their growth projections for India. The International Monetary Fund, in its latest World Economic Outlook, said India's growth in 2015-16 will remain flat at last year's level of 7.3%. It had earlier projected growth of 7.5%.
D.K. Joshi, chief economist at Crisil Ltd, said the lower factory output was also because of a higher base last year.
Still, the IIP trend is worrying because external demand continues to be soft, the sustainability of relatively high investment demand is doubtful and rural demand is yet to pick up, he said.
"I expect the Pay Commission increments to give a boost to demand next year," he added.
The 7th Pay Commission report recommending salary increases for government employees is expected to be submitted next month and implemented in the February budget from 1 January.
The inflation uptick in October was led by higher prices of food, mainly pulses. Retail food inflation in the month quickened to 5.25% from 3.88% in September.
"We were looking at pressures on food. Some of the fuel items have also accelerated," said Shubhada Rao, chief economist at Yes Bank Ltd.
"Going forward we continue to believe the downside surprise will be maintained, vis-a-vis the RBI (Reserve Bank of India) target, and the downside surprise for January inflation could be about 50-60 basis points (bps) below 6% in January. Subsequently, we also see a downside momentum building in terms of March, somewhere close to 5%," she added.
One bp is one-hundredth of a percentage point.
Rao said she does not anticipate another rate cut by RBI in its December monetary policy review. The central bank cut its repo rate by a more-than-expected 50 bps to 6.75% in September.
"However, if RBI achieves 5% target and if the government builds the reform momentum to improve the supply side, we anticipate it opens up room for the RBI to effect another 25-50 (bp move) between January and September," Rao said.