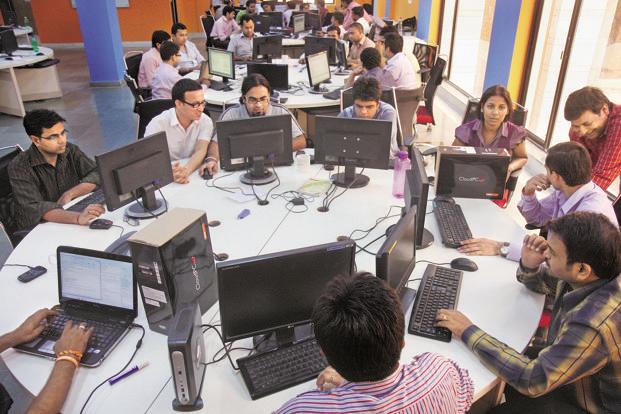 India will remain the world's fastest growing information technology (IT) market in 2016 as it is expected to spend more than $72 billion on IT services, products and hardware, up from 7.2% from the current year, according to research firm Gartner Inc.
The growth will come on the back of the digitization wave catching up with Indian companies and the growing number of connected devices that form the Internet of Things (IoT), said the research firm said on Tuesday at its three-day annual symposium and IT expo 2015 which started on 2 November in Goa.
India's IT market is projected to grow annually at a rate of 4.95% between 2015 and 2019—the fastest globally—to touch $85.3 billion by the end of 2019.
The robust growth will help India overtake Australia to become the second largest IT market in the Asia-Pacific by 2019, behind China, said Aman Munglani, research director at Gartner.
Devices, which include mobile phones, personal computers and tablets, will account for almost 33% of the overall IT spend in India, growing at 9.3% in 2016. While data centre systems will grow 3.9% in 2016, IT services, which accounts for 18.1% of the overall IT spend, will be the fastest growing segment in 2016 with 13.8% growth year on year, predicts Gartner.
Software, which accounts for nearly 7% of IT revenue in India, will grow 12.7%. Communication services will continue to account for the largest share of IT spend: 39.2% of revenue in 2016. However, this will also be the slowest growing segment, with a 2.1% rise in revenue in 2016, according to Gartner.
As per the research firm's survey of chief information officers, Indian IT budget growth of 11.7% is one of the highest in the world, while global average is 1%. "The IT industry is being driven by digital business, and an environment driven by a connected world," said Mike Harris, group vice-president at Gartner.
Gartner predicts spending on Internet of Things (IoT) hardware to exceed $2.5 million per minute in 2016. IoT, usually defined as a network of things that can communicate and exchange information over the Internet. These interconnections, relationships, and algorithms are defining the future of business, according to Harris.
"In five years, 1 million new devices will come online every hour. These interconnections are creating billions of new relationships. These relationships are not driven solely by data, but algorithms," said Partha Iyengar, distinguished analyst and head of research at Gartner India.
An algorithm is a set of defined steps to achieve a specific outcome. "Data is inherently dumb. It doesn't actually do anything unless you know how to use it; how to act on it," said Iyengar. "Algorithms are where the real value lies. Algorithms define action. Dynamic algorithms are the core of new customer interactions."
Pervasive use of algorithms to make sense of humongous data out there is what is giving rise to algorithmic economy. "The algorithmic economy will power the next great leap in machine-to-machine evolution in the Internet of Things," said Iyengar. "Products and services will be defined by the sophistication of their algorithms and services. Organizations will be valued, not just on their big data, but the algorithms that turn that data into actions, and ultimately impact customers."
However, the same connected ecosystem is going to prove challenging when it comes to security and risks. "Security and risk rise exponentially as you exploit what we call economics of connection, but if done properly can build entirely new economy based on digital," said Harris.
Gartner predicts that by 2017, the typical IT organization will spend up to 30% of its budget on risk, security and compliance, and will allocate 10% of its people to these security functions. That's triple the levels of 2014.
While hackers can't be controlled, infrastructure use more automation, more outsourcing and more network-based algorithms, said Harris. The average malware lies dormant, unnoticed for more than seven months before it is activated or detected. IT leaders must get better at sensing these threats.
Firms need to move investments from 90% prevention and 10% detection and response to a 60-40 split, said Gartner. Another trend gathering steam is that leading global firms are acting as venture investors, not waiting for current suppliers to build digital capabilities. "Instead, they are investing in small technology start-ups. They are buying a stake in their future, guiding their direction," said Iyengar.