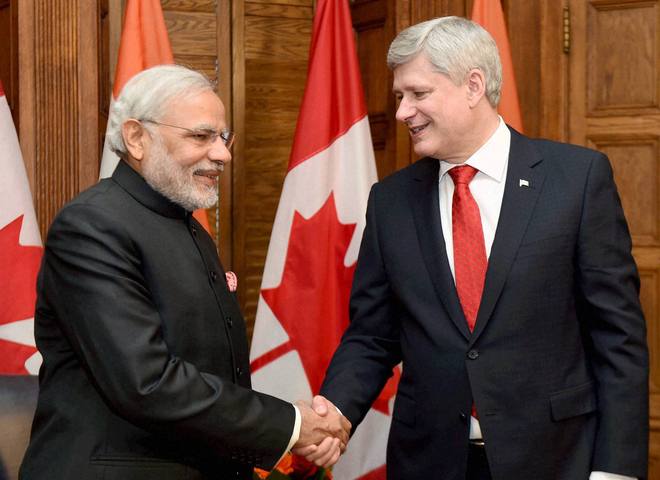 NEW DELHI: India will gets its first consignment of Canadian uranium by next month, in a move that will help in securing fuel for nuclear power reactors in the country.
"The first lot of of 250 tonnes of Canadian uranium is already on its on way and should land by the first week of December. Since it is imported fuel it will be used in the safeguarded reactors," a senior government official said.
The deal, worth CAD 350 million with Canada's largest uranium producing company Cameco Corp, will ensure 3,220 metric tonnes of uranium over the next five years.
Signed in April this year when Prime Minister Narendra Modi visited the North American country, the development also assumes importance as Modi during his visit had given emphasis on the nuclear energy aspect.
The Indo-Canada civil nuclear cooperation was signed in 2010. Incidentally, Canada had banned exports of uranium and nuclear hardware to India in the 1970s after New Delhi developed a nuclear bomb.
India has 21 operational nuclear reactors and six under construction. India this year registered a record production of 1,252 MT of uranium, manufacturing close to double the annual fuel requirement of atomic reactors in the country. The production has far exceeded the country's annual fuel requirement of 650 MT for the Pressurised Heavy Water Reactors (PHWRs), which means the country has surplus nuclear fuel that will last several months.
Every 700 MW of reactor needs 125 MT of uranium every year. However, with the rising number of power reactors in the country, the demand is expected to rise. In the near future, two nuclear reactors of 700 MW each in Rajasthan Atomic Power Station and Kakrapar Atomic Power Station are coming up.
Apart from Canada, India currently procures uranium from Kazakhstan and Russia for its domestic reactors. Fuel for its two foreign reactors at Kudankulam is being taken care of by Russia. It also buys enriched uranium for its two Boiling Water Reactors at Tarapur from Russia. Plus, it is in process of procuring the nuke fuel from Australia.
Four atomic reactors of 700 MW each are also coming up at the Gorakhpur Haryana Anu Vidyut Pariyojana. Fuel for Kudankulam plant in Tamil Nadu and Jaitapur in Maharashtra, coming up in collaboration with Russia and France respectively, will be made available by the foreign players.