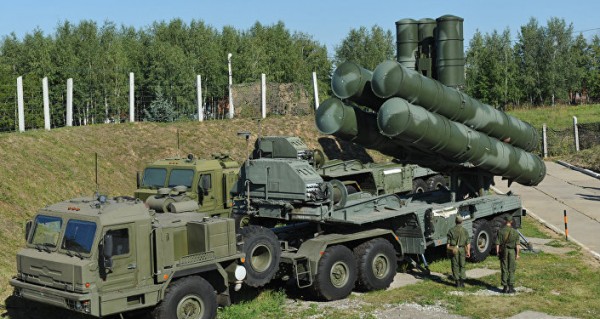 The Indian government has approved the procurement of five Russian S-400 air defence systems, Russia's most advanced air and missile defence system with extraordinary reach.
The decision was made at a meeting of India's Defence Acquisition Council (DAC), chaired by Defence Minister Manohar Parrikar.
With a range of 400 kilometers, S-400 Triumf is designed to shield from air strikes, strategic, cruise, tactical and operating tactical ballistic missiles and medium-range ballistic missiles.
The system is capable of launching up to 72 missiles and engaging up to 36 targets simultaneously.
The deal is likely to be discussed during the December 23-24 Russia visit of Indian Prime Minister Narendra Modi when he holds talks with Russian President Vladimir Putin.
The upcoming deal, estimated to be worth around 400 billion rupees ($6 billion at the current exchange rate), also covers the purchase of about 6,000 missiles, a mobile launcher and a radar station, according to Indian media reports.
China became the first foreign customer of the S-400 air and missile defense systems, said Anatoly Isaykin, director general of Russia's major arms exports firm Rosoborobexport in April this year. Russian President Putin had, in principle, approved the deal with China last year.
China will receive its first batch of the long-range anti-aircraft missile systems within the next 12 to 18 months.
The S-400 air defense missile systems are deployed at the Russian air base in Khmeimim in Syria as part of a security boost following the downing of a Russian jet by Turkey earlier last month.
India remains the largest importer of Russian weapons. According to the Center for Analyses of World Arms Trade, Russian-and Soviet-made arms account for about 70 per cent of the Indian defense forces' total arsenal. According to the Federal Service for Military-Technical Cooperation, Russian military deliveries to India amounted to $4.7 billion in 2014.
Russia S 400 Missile Defence System
Manufacturer: Almaz-Antey arms firm; entered service in Russia in 2007; Range: 400km (248 miles); Speed: up to 4.8km (3 miles) per second; Max target height: 30km – can track hundreds of targets simultaneously; Types of target: aircraft, cruise missiles, medium-range missiles, drones, other airborne surveillance systems. (Sources: RIA Novosti, Russian 1TV.ru)