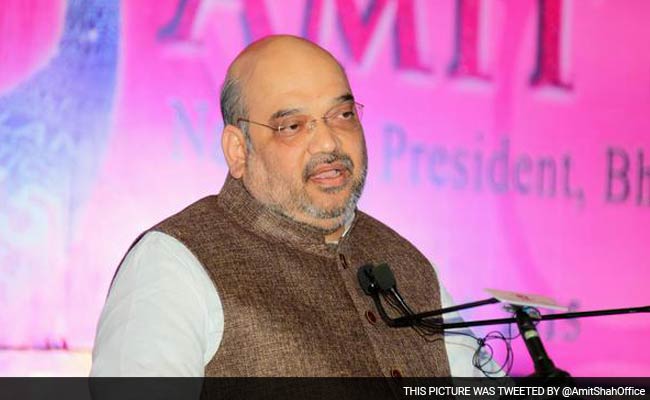 KOLKATA: India will achieve a 10 per cent growth rate by 2017, BJP president Amit Shah said on today.
Speaking at a chamber of commerce event in Kolkata, Mr Shah urged the Congress to support the Goods and Services Tax (GST) bill in the Rajya Sabha. Thursday is the last day of parliament's monsoon session.
"The parliament logjam is unfortunate. This GST bill was brought in by the Congress and we supported it. But now when we are in power, this bill is being stalled for political reasons.
"I appeal to the Congress to act like a responsible opposition and support the GST bill. Only Thursday remains for the monsoon session, and I hope the bill gets cleared because it will augment the rate of growth of the country," said Mr Shah.
Hailing Prime Minister Narendra Modi-led government's polices, Mr Shah exuded confidence about the country achieving 10 percent growth rate by 2017.
"Obviously, when there are disruptions like this, it creates difficulties. But we want to assure that no obstacle can prevent us in realising our dream of achieving 10 per cent growth rate by 2017.
"It is because of the polices of this government that we have controlled price rise, creating a positive environment for development," he said.
Admitting there were murmurs of the BJP-led central government not being able to fulfill public expectations, Shah blamed the slow growth on the legacy of the erstwhile Congress-led UPA government.
"People are talking about the government not having done anything, but they must realise that despite inheriting the legacy of the UPA which suffered from policy paralysis, the BJP government in just over a year has taken the growth rate from a dismal 4.4 per cent to 5.9 per cent.
"We have a pro-active prime minister who is leading from the front. Unlike the UPA, there is neither any confusion in the government functioning nor is it a remote-controlled government."
Describing the UPA as a combination "characterised by only scams", Mr Shah said even the opposition cannot level charges of corruption against the Modi government.
He said India had made rapid progress in international relations, agriculture and defence because of the Modi government.
"There was a time when our soldiers would get beheaded but today we have shown the world that if needed, we can fight our enemies even in a foreign country," said Mr Shah, referring to the army's counter-insurgency operation in Myanmar.