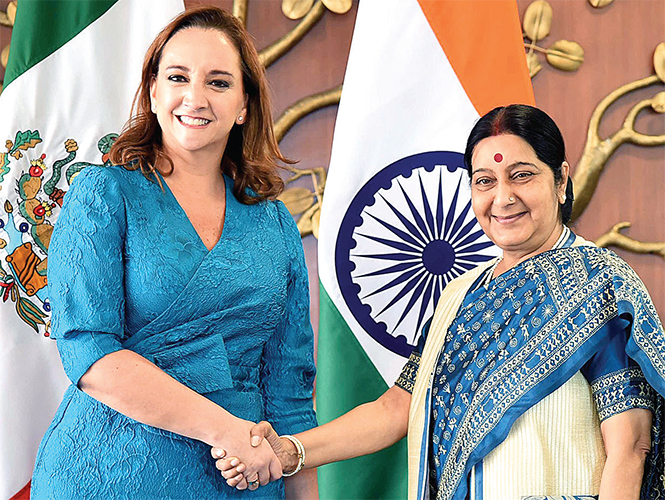 NEW DELHI: India and Mexico today discussed ways to enhance cooperation in key areas of trade and energy with External Affairs Minister Sushma Swaraj inviting Mexican participation in government's flagship programmes such as Make-in-India and Digital India.
Swaraj and her Mexican counterpart Claudia Ruiz Massieu Salinas also talked about ways and means of elevating the special relationship between the two countries and agreed to schedule the next meeting of the Joint Commission in Mexico in the second half of 2016.
The visiting dignitary had called on Prime Minister Narendra Modi yesterday.
Acknowledging that the present bilateral trade volume of $6.5 billion was low, Swaraj sought Mexican participation in the flagship programmes such as Make-in-India, Digital India, Skill India and Smart Cities, the MEA Spokesperson said in a release.
The two Ministers also discussed cooperation in a number of areas including oil and gas (India is the third largest purchaser of crude oil from Mexico), renewable energy, urban planning and the housing sector.
Swaraj also mentioned that India would like Mexico's participation in ensuring value addition and greater use of technology in our agriculture and agro-processing sectors.
The External Affairs Minister also conveyed government's interest in providing launch facilities for Mexican micro and nano satellites.
"Both sides shared their perspective on increasing engagement with the diaspora (Mexico has a 35 million diaspora in the US alone). They also exchanged views on cooperation on issues relating to women's empowerment," the Spokesperson said.
The Mexican Foreign Minister renewed the invitation extended by the Mexican President Enrique Pena Nieto for Modi to visit Mexico in the near future.