LONDON: India has held a first-of-its-kind business summit in Scotland to strengthen bilateral trade ties and generate awareness among Scottish companies for doing business in the country under the 'Make in India' initiative.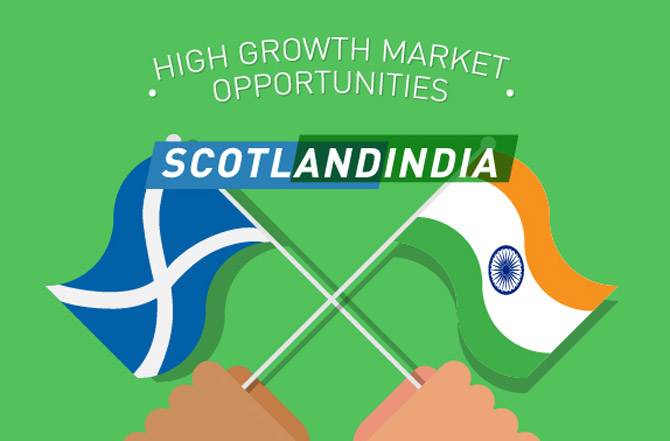 "The India-Scotland Business Summit is being organised at an opportune time when the economies of both India and UK are witnessing high levels of growth and diversification. Scotland plays a very vital role in the UK economy," Indian High Commissioner to the UK Ranjan Mathai said.
Scottish Enterprise's global arm Scottish Development International (SDI) organised the summit with the collaboration of the Confederation of Indian Industry (CII) and the Royal Edinburgh Tattoo this week in Edinburgh which was aimed at strengthening business links between Indian and Scottish companies within the larger India-UK relationship.
"Through the India-Scotland Business Summit, we aim to generate awareness among Scottish companies on doing business in India, particularly under the 'Make in India' campaign. At the same time, the huge interest we are seeing from Indian companies to explore Scotland is also remarkable," CII Director of the UK Shuchita Sonalika said.
Scottish exports to India were worth $379 million in last year, and IT and BPO, education, biotechnology and energy were identified as further growth sectors.
"The Scottish economy's strengths in the key sectors of energy, life sciences, ICT, education and food and drink provide immense prospects for collaboration with India under its 'Make in India' flagship initiative.
"Interaction between the Indian and Scottish companies during the summit would help to build linkages across sectors, thereby strengthening the strong bilateral economic relationship between India and Scotland," Mathai said.
"India offers significant opportunities for Scottish exporters, thanks to an expected economic growth rate of 7.5 per cent and a fast growing consumer market predicted to be world's largest by 2030. India can also be leveraged as a hub for serving the region and global supply chain," SDI Managing Director Paul Lewis said.
"We need more companies to look at the opportunities India offers and how these can support their plans for international growth. This event is a great showcase for both markets and how we can grow our trading partnerships," Lewis said.
Scottish Enterprise recently set up an High Growth Market Unit in recognition of the potential of the market. The unit offers extra support both in Scotland and India for companies with the potential and desire to high opportunity market.
As part of CII's Business Roadtrip initiative in the UK, a delegation of senior officials of Air India, Rolta, State Bank of India, Tata Group and Wipro among others went to Edinburgh.