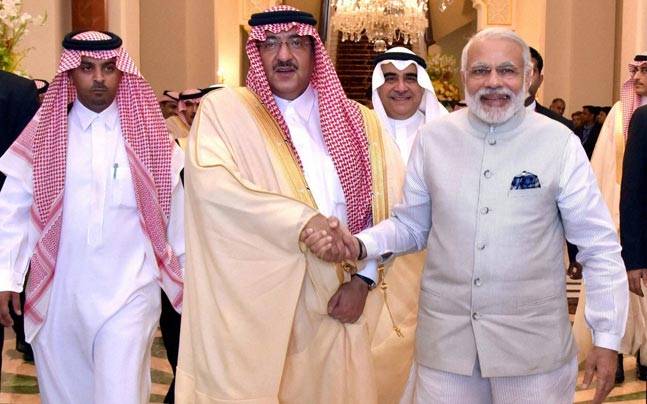 Prime Minister Narendra Modi left Saudi Arabia for New Delhi on Sunday evening at the conclusion of his two-day bilateral visit to Saudi Arabia.
India and Saudi Arabia today vowed to substantially boost investments and their trade ties as Indian Prime Minister Narendra Modi invited cash-rich Saudi firms to invest in infrastructure and form joint ventures for oil exploration.
A joint statement issued after the talks between Modi and Saudi King Salman bin Abdulaziz said that both countries agreed to forge a deeper partnership in energy sector focusing on investment and joint venture in petrochemical complex.
"The two leaders emphasised the importance of expanding trade and investment ties to drive the strategic engagement forward. They directed their Finance and Trade Ministers to work together to find ways and means to substantially increase the flow of bilateral investments and growth of trade ties," the statement said.
There has been a steady increase in bilateral trade, which stood at USD 39 billion in 2014-15.
"The two leaders agreed upon the need to further strengthen these ties, particularly through diversifying non-oil trade," it added.
During the Prime Minister's two-day visit India showcased its initiatives at improving the ease of doing business and efforts to simplify and rationalise existing rules and relax the foreign direct investment norms in key areas, including railways, defence and insurance.
Saudi Arabia is India's largest supplier of crude oil.
The two countries also expressed satisfaction at the growing bilateral trade in the energy sector.
"The two leaders agreed to transform the buyer-seller relationship in the energy-sector to one of deeper partnership focusing on investment and joint ventures in petrochemical complexes, and cooperation in joint exploration in India, Saudi Arabia and in third countries," the statement said.
India and Saudi Arabia signed 5 MoUs
Agreement on Labour Co-operation between the Ministry of Labour of the Kingdom of Saudi Arabia and Ministry of External Affairs of the Republic of India for Recruitment of General Category Workers.
Technical Cooperation Program between the Bureau of Indian Standards (BIS) and the Saudi Standards, Metrology and Quality Organization (SASO).
Executive Program for Cooperation in the Field of Handicrafts between the Export Promotion Council for Handicraft (EPCH) in the Republic of India and Saudi Commission for Tourism and National Heritage.
MoU between Financial Intelligence Unit – India and the Financial Intelligence Unit-Saudi Arabia concerning Cooperation in the Exchange of Intelligence related to Money Laundering, Terrorism Financing and Related Crimes.
Framework for Investment Promotion Cooperation between Invest India and the Saudi Arabian General Investment Authority (SAGIA).
Modi invited Saudi firms such as Aramco and SABIC to invest in the India's infrastructure sector.
Modi met on Sunday with King Salman and the two sides signed five agreements, including plans to cooperate in intelligence sharing and increase investments.
Soon after arriving Saturday, Modi was pictured eating a traditional South Asian dinner with Indian workers.