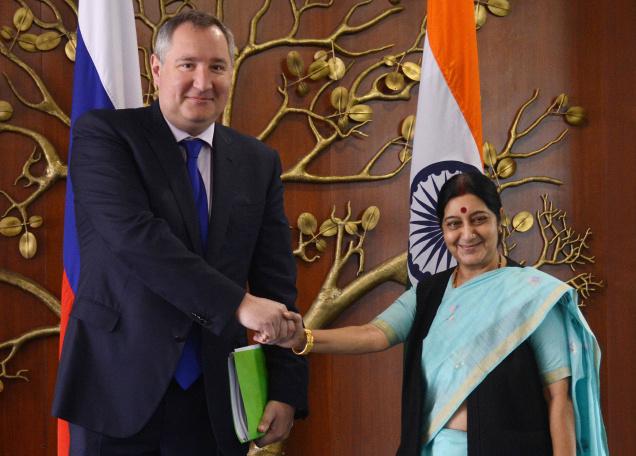 MOSCOW: India and Russia today discussed ways to boost their economic ties to achieve the target of $30 billion in bilateral trade in the next 10 years.
External Affairs Minister Sushma Swaraj and Russia's Deputy Prime Minister Dmitry Rogozin, chairing the 21st India-Russia Inter-Governmental Consultations, also looked at ways to enhance the mutual direct investment to $15 billion by 2025.
Both the sides identified various sectors to achieve these commercial targets, agreed upon by Prime Minister Narendra Modi and and Russian President Vladimir Putin during their summit meeting last year.
Bilateral trade during in 2014 amounted to $9.51 billion, with Indian export touching $3.17 billion and imports from Russia $6.34 billion.
Agriculture, pharmaceutical and infrastructure were some of the areas identified by both sides to strengthen their economic engagement.
While economic agenda was one of the focus areas in the consultations today, the other areas deliberated upon were space, energy, culture and science and technology.
Officials said India also reiterated its commitment to work towards having 12 Russian nuclear plants as was agreed between Modi and Putin.
Russia is an important partner for India in peaceful uses of nuclear energy.
Earlier Swaraj interacted with top Russian Indologists. The Indologists briefed her about their work including translations of Ramayana and Mahabharata as well as teaching of Indian languages.
In her remarks, Swaraj said hallmark of Indian literature and culture has been respect for all points of view.
"From translations of Ramayana and Mahabharata to Rabindra Sangeet and teaching of Indian languages, Russian Indologists briefed the External Affairs Minister on their work," Spokesperson in the Ministry of External Affairs Vikas Swarup said.