The Nikkei India Composite Output Purchasing Managers' Index (PMI) came in at 54.6 for August, a 42-month high. Both the manufacturing and services PMIs showed high rates of expansion last month, with the manufacturing PMI at 52.6 and the services PMI at 54.7. The good news was that new orders showed strong growth for both the manufacturing and services sectors, giving rise to the hope that the pace of expansion will be sustained.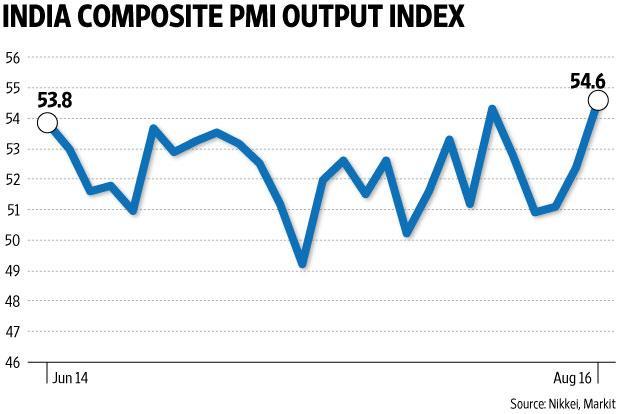 The PMI survey says, "Measured across the service economy, the level of incoming new work rose at the quickest pace for three-and-a-half years. Where an expansion was registered, companies mainly linked this to improved market conditions. Similarly, manufacturing order books increased at a sharp rate that was the quickest since December 2014."
There are, however, two caveats. The first is that, although the expansion has come about without significant upward price pressures so far, the survey asserts that "latest survey data pointed to additional pressure on the capacity of private sector companies in India as outstanding business rose at manufacturers and service providers alike". That could indicate higher prices in future.
And finally, although the August PMI numbers seem to show that the long-awaited economic recovery is in the works, we shouldn't forget that the composite PMI was a high 54.3 in March 2016, before falling again in the next few months. Let's hope that this time, the recovery will continue.