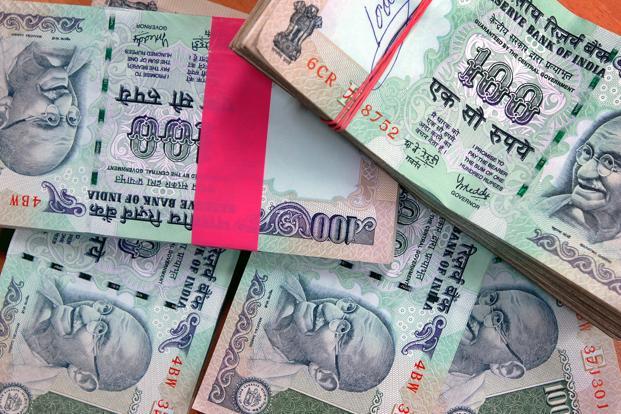 New Delhi: The National Democratic Alliance (NDA) government on Monday opened the doors wider to foreign direct investment (FDI) in seven sectors ranging from civil aviation and defence to food products and pharmaceuticals, seeking to attract more overseas money to create jobs and boost economic growth.
The government raised foreign investment caps in some sectors, brought more investments under the automatic route that will not entail prior approval and relaxed some conditions governing FDI to improve the ease of doing business in India.
It's the second major overhaul of FDI rules in seven months. In November, the government eased norms for overseas investment in 15 sectors. The announcement came on a day the equity and currency markets battled investor concerns over Reserve Bank of India governor Raghuram Rajan's announcement on Saturday that he will return to academics at the end of his tenure in September and will not seek an extension.
A meeting chaired by Prime Minister Narendra Modi decided on the measures to make India an attractive destination for foreign investors, the government said in a statement. FDI inflows into India rose to $55.46 billion in 2015-16 from $36.04 billion two years ago.
The government will also soon bring out a small negative list of sectors that will spell out some caps and conditions attached to foreign investments.
Girish Vanvari, head of the tax practice at KPMG in India, said the government's move to ease the FDI regime was well-timed.
"It actually opens up the country to the global world. The liberalization of limits in defence, brownfield pharma, airports, private security services, food processing etc can be game changers and be a huge source of employment creation. The move to prescribe a small negative list for FDI with most sectors under the automatic route is a big mindset shift," Vanvari wrote in a note.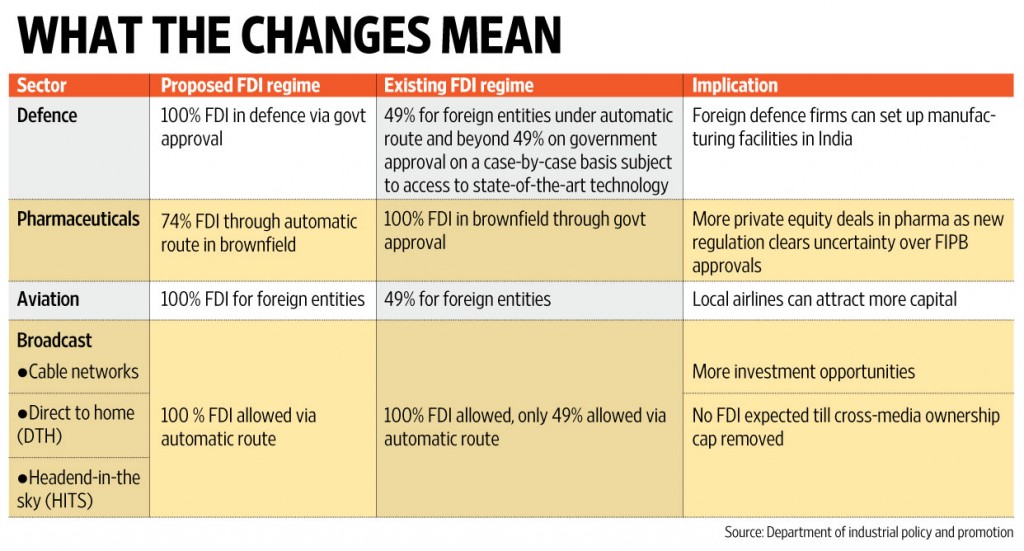 Defence
According to the changes announced on Monday, the government has made it easier for foreign investors to hold more than 49% (up to 100%) in the defence sector.
"Foreign investment beyond 49% has now been permitted through government approval route, in cases resulting in access to modern technology in the country or for other reasons to be recorded," the statement said, adding that an earlier condition of access to state-of-the-art technology in the country has been done away with.
This limit has been made applicable to manufacturing of small arms and ammunitions covered under Arms Act 1959.
The defence FDI policy amendment introduced by the government is pragmatic because state-of-the-art technology hadn't been defined in the previous policy, said Pierre de Bausset, president, Airbus Group India.
"The new policy wording communicates the realization that there may be several other genuine reasons for the government to allow more than 49% stake to the foreign OEM (original equipment manufacturer) in a joint venture with an Indian company and they want to take advantage of these for the benefit of the indigenous industry," Bausset said.
Civil aviation
India will also allow overseas entities—excluding airlines—to own 100% in domestic airlines. Currently, up to 49% FDI is allowed under the automatic route in domestic airlines (scheduled air transport service/ domestic scheduled passenger airline and regional air transport service).
"It has now been decided to raise this limit to 100%, with FDI up to 49% permitted under automatic route and FDI beyond 49% through government approval. For NRIs (non-resident Indians), 100% FDI will continue to be allowed under automatic route," the government said.
Investment by foreign airlines in domestic airlines will, however, be limited to 49% of paid-up capital.
The government has also allowed 100% FDI under the automatic route in so-called brownfield airport projects with the aim of modernize existing airports. Brownfield projects refer to existing facilities requiring expansion and refurbishment.
Earlier, only FDI up to 74% in brownfield airports was allowed under the automatic route, with investments beyond 74% requiring prior government approval.
Amber Dubey, partner and India head of the aerospace and defence practice at consulting firm KPMG, said the opening of FDI will help bring in much-needed funds and help airlines expand their fleet.
"We may see its positive impact over the next 6-12 months. Though equity holding of foreign airlines is still limited to 49%, a foreign airline can join hands with its sovereign fund or private investors and set up a 100% foreign-owned airline in India," Dubey said.
"The likely increase in competition will bring down prices and enhance air penetration in India—both international and domestic. Indian carriers can now look for enhanced valuations in case they wish to raise funds or go for partial or complete divestment," Dubey said.
Broadcasting, pharma
It also did away with the need for prior approval of foreign investment in the broadcasting sector, allowing 100% FDI via automatic route for broadcasting carriage services, allowing direct-to-home (DTH) TV operators, cable network companies and mobile television firms to raise 100% FDI under the automatic route.
Earlier, these investments were subject to approval from the Foreign Investment Promotion Board (FIPB).
The government allowed up to 74% FDI under the automatic route for investments in brownfield pharmaceutical projects with investments beyond 74% under the approval route.
The current policy allowed 100% FDI under the automatic route in greenfield pharma (projects built from scratch) and up to 100% FDI in brownfield pharma projects under the government approval route.
Single-brand retail
But taking into account its Make in India initiative aimed at promoting manufacturing, the government sought to streamline the waiver from local sourcing norms under single-brand retail to companies with state-of-the-art and cutting edge technology.
It limited the exemption to three years, with the option of a subsequent five-year extension, to encourage such manufacturers to source from India.
The exemption to firms with state-of-the-art and cutting- edge technology will be limited to eight years, said Ramesh Abhishek, secretary, department of industrial policy and promotion, adding that the government will inform Apple Inc. about the new changes.
Apple, the maker of iPhones and iPads, was among the few companies that had sought a waiver from the mandatory sourcing norms from the government to enable it to open exclusive Apple stores.
Other measures
The government allowed 100% FDI under government approval route for retail, including through e-commerce, in food products manufactured or produced in India.
It also raised the foreign investment limit in private security agencies to 74% from the existing 49%. While investments up to 49% will be under the automatic route, investments above 49% will be subject to government approval.