Mumbai: India has been ranked as the most attractive investment destination in the world for the next three years with 32% of global business leaders favouring the country, followed by China, South-East Asia and Brazil, according to a survey conducted by accounting firm EY.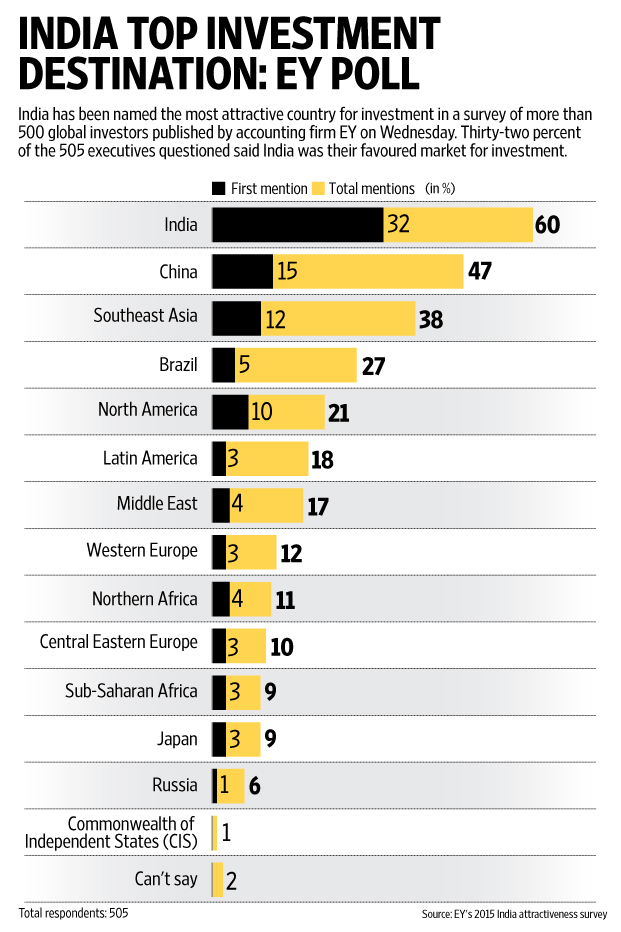 The survey was conducted during March and April across more than 500 decision-makers from multinational organizations in sectors including industrials, automotive, consumer products, life sciences, infrastructure, technology, financial services and others, EY said in a statement on Wednesday.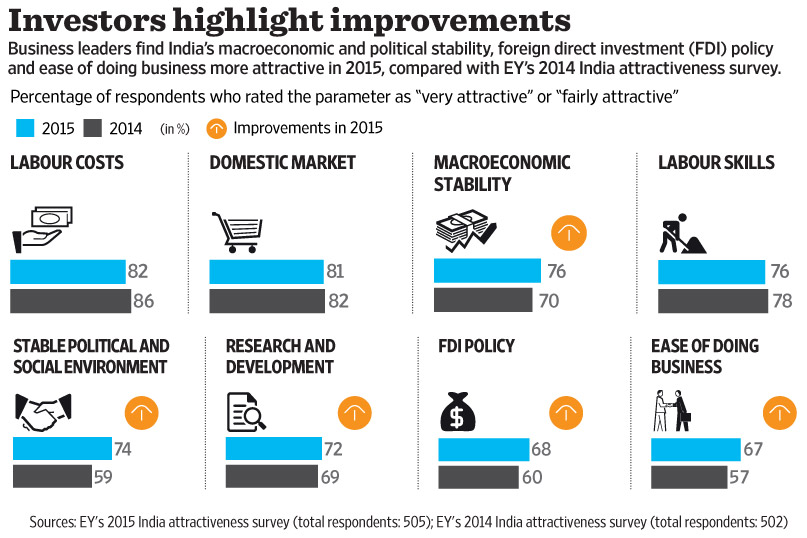 More than three out of five respondents said they had plans to invest in India over the next year and 62% are looking at manufacturing, both to serve the Indian and global markets from India, EY said.
About 55% of respondents were aware of the Indian government's "Make In India" initiative and were upbeat about their expansion plans, with 70% out of those stating that they are likely to expand or relocate their manufacturing facilities to India in the next five years, the survey found.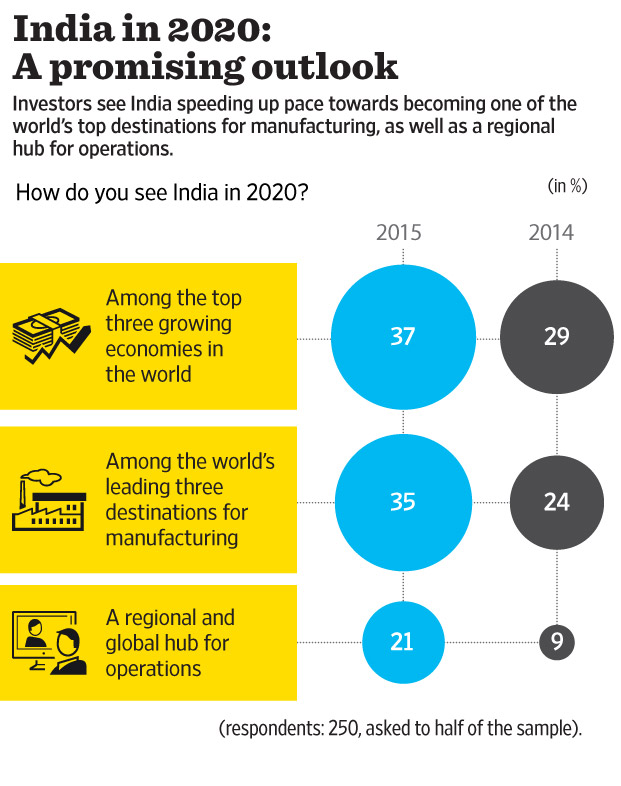 About 89% of the investors surveyed said investment in infrastructure projects and the 100 Smart Cities project would be significant reforms expected to drive growth. Some 83% of the respondents said the government's financial inclusion efforts, the Digital India initiative and a proposed corporate tax reduction from 30% to 25%, were significant in driving growth in India.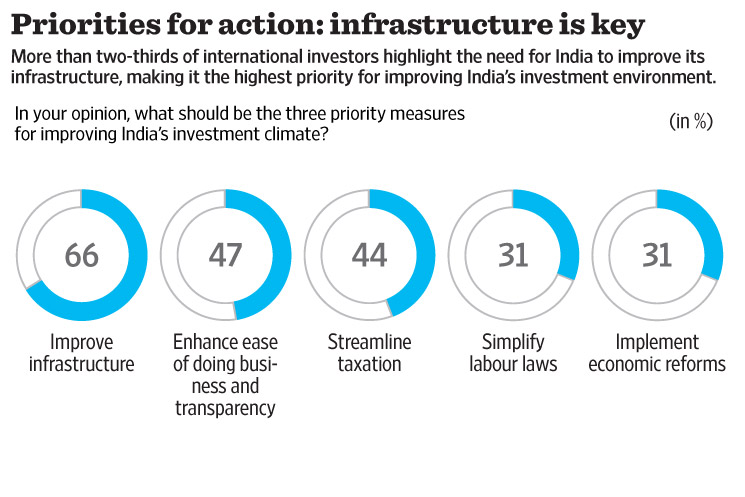 Investors also said implementation of the goods and services tax (GST) and passage of legislation on land acquisition would be important enablers for attracting foreign direct investment (FDI) in the country, EY said.
In the first six months of 2015, India became the top FDI destination with $30.8 billion of inflows, moving up from the fifth position in the year earlier period, according to fDi Markets data, a data service of the Financial Times.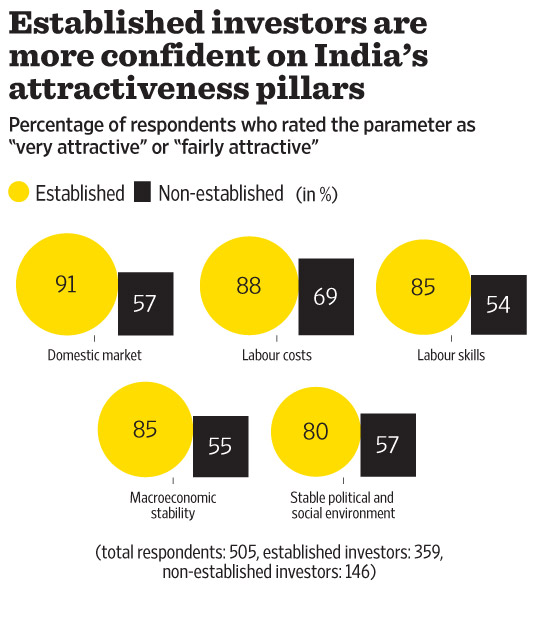 During the calendar year 2014, India reversed a two-year decline with FDI inflows of $25 billion, a 32% rise over the previous year. In the same period, the number of FDI projects rose 37% to reach 680, contrasting with a 3% decline worldwide, EY said.
"Over the last year, the improvements in India's macroeconomic indicators, accompanied with the ongoing efforts to revitalize growth have offered new hope to investors," said Rajiv Memani, chairman of the global emerging markets committee and India regional managing partner at EY.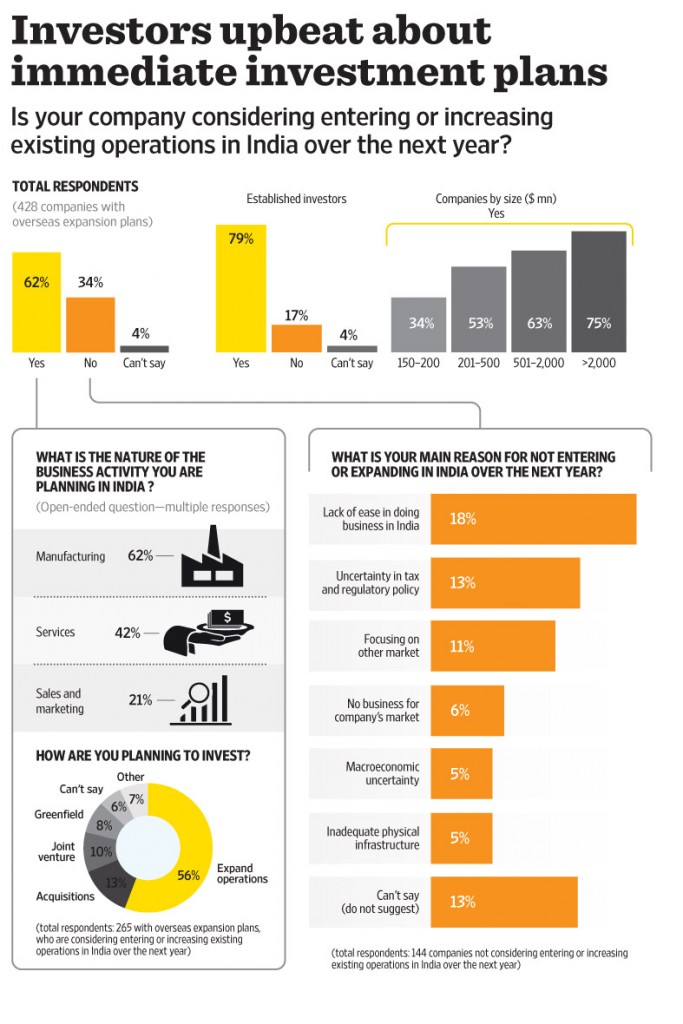 Compared to the 2014 survey, the proportion of respondents who believe that India will be among the world's leading top three destinations for manufacturing by 2020 has risen to 35% from 24%, EY said.
Bengaluru, Mumbai, Delhi-NCR, Chennai and Pune continue to be the top destinations for FDI inflows with comparatively smaller cities such as Ahmedabad, Jaipur, Vadodara, Coimbatore and Visakhapatnam emerging as the as the top five cities for FDI, the survey found.