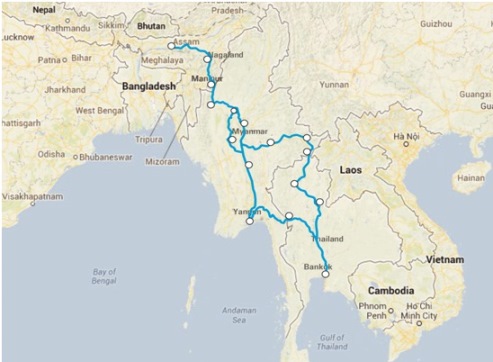 Guwahati, Assam, India
The most critical section of AH 1 (Asian Highway No. 1), between Myawaddy-Thinggan Nyenaung-Kawkareik linking India, Myanmar and Thailand has been put into service this weekend. Myanmar Vice President U Nyan Tun, Thai Deputy Prime Minister Somkid Jatusripitak and Chairman of the Kayin National Union General Saw Mutu Sae Po attended an inaugural ceremony of the service on Sunday. AH 1 runs from Moreh in India to Thailand's Maesot via Myanmar's Tamu, Mandalay and Myawaddy.
The North East Federation on International Trade (NEFIT), the nodal trade body of exporters and importers of North East India, has announced a unique 7000 km, 19 day return road trip starting from Guwahati to Bangkok and back from Nov 2nd. The business and adventure-tourism enthusiasts will be able to explore the new road routes, meet leading delegates from government and trade bodies and exchange ideas besides discovering new cultural connects.
Mr. Bijoy Phangcho, Working President, of NEFIT informed, "Global analysts have predicted that more cooperation amongst India, China and South Asian nations will bring about a rapid economic growth affecting positive changes in the standard of living of the people of these nations. If such a development takes place, together they will be able to place themselves as a formidable economic block. This requires a sincere regional cooperation among these nations in all aspects like policy, economic and cultural development."
Government bodies like ministries of external affairs, commerce and tourism from all three countries are supporting the project along AH1 and beyond. Many business and trade deals will be inked across sectors to promote the 'Make in India' and 'Look East' policies in line with Government of India and counterparts.
The cultural and historical connect between the three countries will open up new vistas for travel, tourism and adventure sports enthusiasts as well. Besides the beautiful photogenic landscapes, each leg/day will be attended to by local trade and government leaders as well as well informed local tour guides to enhance the enthusiasts and businessmen alike.
The key objective of regional co-operation is to achieve rapid growth through improvement in network and connectivity through road and transport communication and logistic infrastructure, which has been relegated hitherto to air or sea links. Regional co-operation amongst these geographically contiguous countries is expected to accentuate trade relation by fruitfully mobilizing local resources and fully utilizing them. A cornerstone laying ceremony was also held at Myawaddy on Sunday for the building of Myanmar-Thailand Friendship Bridge No.2 to link Myanmar and India and talks have begun to introduce bus service between Imphal and Mandalay.
Mr. Phangcho of NEFIT further added, "We are pushing for increase in quantum of overland trade with Myanmar and the other ASEAN countries which is expected to give a big boost to trading activities in North Eastern region thus cutting down the price of the commodities and making it more competitive in the International market. This is a kind of confidence building measure that will open up a new dimension of overland trading and dispel many doubts of prospective traders. The follow-up action of the Look East policy of the Government of India is creating a bright economic prospect of overland trade of commodities of North East India with South East Asian countries through the India-Myanmar- Thailand Trilateral Highway and Asian Highways 1 and 2."
This is also first of its kind serious attempt to explore road transport by ferrying businessmen, traders, economists and government officials of the participating countries to practical study of physical connectivity by road, transport and transit facilities, border management, soft infrastructures, land customs stations, banking facilities, border management, immigration checkpoints and other facilities. Besides, the expedition and the visit is expected to provide participants with opportunities for networking, exploring new business prospects and establishing specific business relationships with Myanmar and Thai companies.