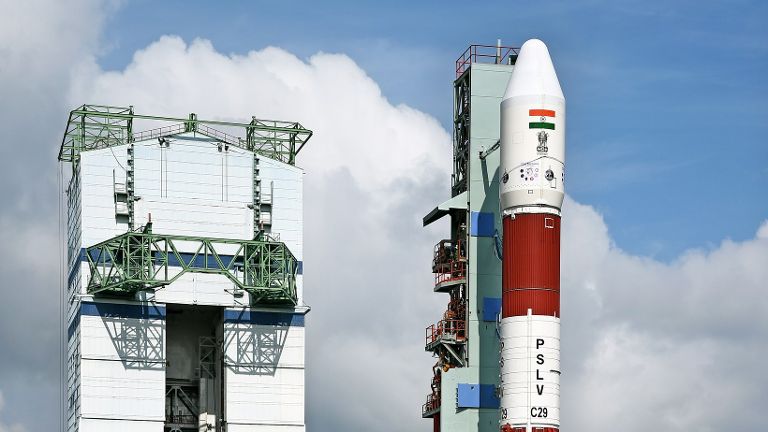 SRIHARIKOTA: India today successfully put six Singapore satellites into orbit after a perfect launch of its polar rocket in its landmark 50th space mission from here that also gave a boost to its space business.
The Singaporean satellites that would help the city-state gather information on disaster monitoring and urban planning were launched by ISRO's workhorse Polar Satellite Launch Vehicle(PSLV-C29) coinciding with the 50th anniversary of the establishment of diplomatic relations between Singapore and India this year.
Indian Space Research Organisation(ISRO) also scored a splendid hat-trick of exclusive commercial launches this year after the July and September missions when it launched 11 satellites, including those of United States and United Kingdom.
In a textbook launch, PSLV C-29 blasted off from the Satish Dhawan Space Centre (SDSC) here, about 110 km from Chennai, at 6 pm and released the six satellites one by one into a 550 km circular orbit, completing the exercise about 21 minutes later.
After the rocket soared into clear evening sky at the end of the 59-hour countdown, the four stages of PSLV performed as programmed, releasing the satellites in orbit much to the jubilation of ISRO scientists at the mission control centre.
Prime Minister Narendra Modi congratulated ISRO scientists for the successful launch, saying it was a "momentous feat".
"Our scientists at @isro accomplish another momentous feat. Congrats to them on PSLV-C29 successfully launching 6 Singapore satellites," he tweeted.
On its 50th launch from here, ISRO has succesfully launched six satellites of Singapore which was celebrating its 50 years of independence, a beaming ISRO Chairman A S Kiran Kumar said in his address from the mission control room.
"We intend to carry on with our activities including (launch of) communication and observation satellites in 2016 with greater vigour… we have lot more to achieve," he said.
This was the 32nd flight for the Polar Satellite Launch Vehicle (PSLV) which once again proved its reliability as the workhorse rocket for ISRO, recording its 31st consecutive success.
Today's mission was the golden jubilee launch for ISRO from Sriharikota, since the maiden launch in August 1979, an official of the space agency said.
With this, the Antrix Corporation, the commercial arm of ISRO, has provided launch services on-board the PSLV for 57 customer satellites from 20 countries.
This year alone ISRO has launched a total of 17 satellites of foreign countries.
In the previous two missions, ISRO launched five satellites for customers from United Kingdom onboard PSLV-C28 in July and four satellites belonging to the US and one each from Canada and Indonesia onboard PSLV C30 in September.
The maiden launch from Sriharikota was on August 10, 1979 when the first experimental launch of Satellite Launch Vehicle SLV-3 with Rohini Technology Payload ended in failure as the satellite could not be placed in orbit.
Since then, ISRO has undertaken 49 other missions onboard 32 Polar Satellite Launch Vehicles (PSLV), three Satellite Launch Vehicle (SLV), four Augmented Satellite Launch Vehicles (ASLV), nine Geosynchronous Launch Vehicle (GSLV) and one GSLV Mark -III, an ISRO official said.
In today's mission, PSLV in its 'core-alone' configuration sans solid strap-on motors, launched Singapore's first commercial earth observation satellite designed and developed by ST Electronics and five other micro and nano satellites.
Talking about the mission, P Kunhikrishnan, Director of SDAC, said in every sense it was a 'golden launch'.
"The launch was tough due to bad weather and rain. This year we have completed 17 launches for other countries. That reaffirms our strong commitment and potential to be a major player in the global space market," he said.
"We are proud to have got the opportunity to be the host of our partner from Singapore and I'm sure we have been able to provide them world class launch service from here."
He said the launch was a tough one owing to bad weather and heavy rainfall over the region recently. "It is the first ever campaign we have taken up in the month of November when the weather vagaries generally set up over here."
PSLV-C29 is a take-off for a sequence of monthly launches from here starting with three remaining missions of IRNSS Navigation satellites, he added.
Mission Director B Jayakumar described the launch as 'grand success and 100 per cent mission accomplishment'.
"Vehicle has performed excellently well. The orbit achieved is very precise. Inclination is very close, on dot. We are nearing 100 satellites from PSLV. This is the sixth dedicated mission," he said.
The mission was also used by ISRO for the first time to carry out an experiment to reignite stage four of the rocket for four seconds from 67.25 minutes (after the lift-off).
"After injecting all the satellites we are carrying out a major experiment to ignite once again PS4. This aspect is going to be a major mission flexibility for the Cecile to plan different orbital missions in a single launch," an ISRO spokesperson said.
Tang Kum Cheun, President, Communications and Sensor System Group, ST Electronics of Singapore, said, "This is of course a very meaningful launch for us being the 50th year of independence for Singapore and the 50th year of relationship between Singapore and India. So we are very happy."
TeLEOS-1, weighing 400 kg, is an electro-optical satellite for remote sensing applications. It comes with a mission life of five years.
Besides, the TeLEOS-1, PSLV-C29 carried two micro and three nano-satellites, developed by Nanyang Technological University, Singapore.