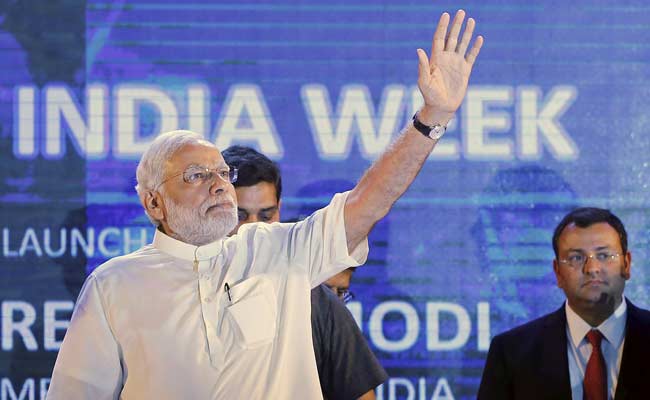 NEW DELHI:  Prime Minister Narendra Modi urged more companies to make electronic and digital goods, reviving his campaign promise to bridge India's digital divide backed by over $70 billion (4.5 lakh crore rupees) in investment pledges. India's top businessmen including brothers Mukesh and Anil Ambani, Azim Premji and Sunil Mittal were present in Delhi as the PM launched the 'Digital India Week'.
Here is your 10-point guide to this story:
Digital India is a massive tech push to provide electronic governance and universal phone connectivity across the country.  The aim is to bridge the digital divide, bringing in large investments in technology manufacturing.
"E-Governance is going to change into M-Governance... M is not Modi Governance, it is mobile governance," the PM said with a smile, sketching a broad roadmap in his 27-minute speech of how he plans to digitise India.
PM Modi spoke of the need to boost local manufacturing of electronics – the country's largest import after oil. "Why can't we make quality electronic goods that are globally competitive?" he said in a speech to a packed 14,000-seater indoor stadium.
Reliance Industries Ltd chairman Mukesh Ambani and Bharti Enterprises head Sunil Bharti Mittal led a roll call of industrialists sharing the dais with the Prime Minister, promising investments of over 4,50,000 crore rupees ($71 billion) to back the government's initiative.
Besides investment, the initiative is also expected to create 18 lakh jobs. PM Modi said, "Make in India is important but 'Design in India' equally important for digital India."
The push to connect India and drive a national fibre optic network, approved by the previous Congress-led government in 2011, has made slow progress in utilizing technology to bring services and deliverables to those outside large towns and cities.
India's average Internet speed was ranked 115th globally earlier this year among countries studied by services provider Akamai Technologies. And India had just a little over 100 million broadband subscribers at the end of April, out of a population of close to 1.3 billion.
A growing  economy and falling handset prices make India one of the fastest growing smartphone markets in the world, and PM Modi wants to harness that to drive  social development in fields like education and health.
Outlining his 15-point digital dream, the Prime Minister said today information technology can be used in a big way to eliminate corruption. "I dream of digital India where technology ensures that government and citizen interaction is incorruptible."
PM Modi has used social media and particularly Twitter, where he has 13 million followers, to style himself as a leader in touch with technology.