Ahead of key ministerial talks, India on Monday said it is determined not to make the Paris climate meet like past summits where nations returned with "false optimism and fictitious hopes" and would ensure that rich countries pay back their "debt for overdraft" drawn on the carbon space.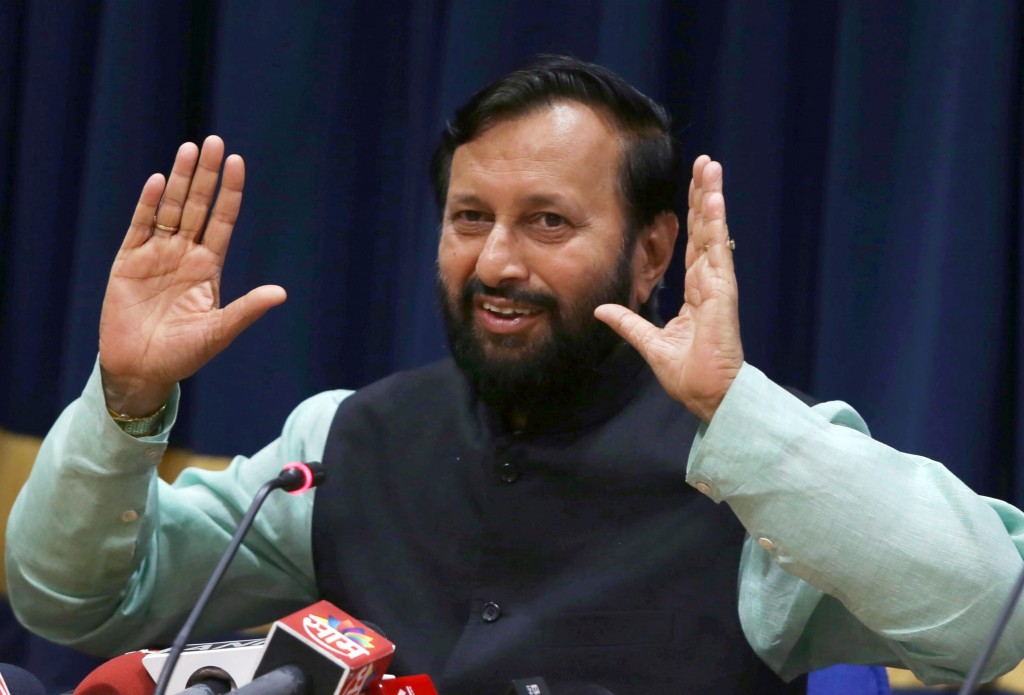 The statement comes a day before the crucial high level segment gets underway where ministers of 195 countries will deliberate on the draft negotiating text which emerged on Sunday to reach a final agreement to tackle the challenge of climate change. Environment Minister Prakash Javadekar who is in Paris to attend the high level segment said that although nations are "midway" in their journey to reach a new climate agreement, substance-wise it is "sometimes at crossroads" while hinting at the various unresolved issues which remain in the draft negotiating text.
Noting that the United Nations Framework Convention for Climate Change (UNFCCC) is a "fundamental global climate constitution", India also made it clear that any attempt to rewrite or to overwrite will "not be acceptable". "We are at this time midway on our journey to reach new climate agreement, but substance-wise we are not midway but sometimes at crossroads. India is ready and committed to work with French Presidency which has done a monumental job over the last one year to build political momentum," Javadekar said.
Noting that India will not let the Paris conference fail in reaching its objectives, Javadekar said that the country will ensure that the seminal principle of Common But Differentiated Responsibilities (CBDR) is respected. "India is also determined not to make Paris summit like past summits where we all returned home with false optimism and fictitious hopes."
"For India it is a question of present and future lives of our 1.27 billion people with aspirations to develop. We will not let this meeting fail to reach its objectives. India is here to ensure that seminal principle of CBDR is respected, and India is here to ensure that rich countries pay back their debt for overdraft that they have drawn on the carbon space," Javadekar said.
The text that was handed to ministers yesterday still contains all the unresolved options on key issues at stake. Observers have maintained that very little actual progress has been made in terms of compromises and agreements on the contentious points.
"UNFCCC is a global climate constitution. It is fundamental. Any attempt to rewrite or to overwrite will not be acceptable to anybody. Our collective decision should be based on Science, CBDR and Collective Conscience," Javadekar said.
After week long negotiations, contentious issues like financing by developed nations to developing ones to tackle the challenge of climate change, CBDR, access to technologies still remain on the table. The contentious issues which has been raised by India and which still remain are positioning of the agreement visa-a-vis the convention while the second is the process by which INDC becomes nationally determined mitigation commitment (NDMCs).
Another issue which India has raised is the mechanism for global stock take and updating of INDCs. India has said that global stock taking is in view of a global aggregate of the commitments that nations have made.
"Mitigation, adaptation and means of implementation – that is what India would like. There is a an emerging consensus but the only issue in this particular thing is once one has stock take, how does it influence the update of INDCs. While India believes it will influence on the next INDCs others believe that it updation should occur even on the existing INDC," a key developing country negotiator had earlier said.
Developing countries need money and technology to make the switch to clean energy sources like solar and wind power. They are also asking for money to adapt to climate change. The developed countries are willing to help but reluctant to make firm commitments as negotiators from over 190 nations look to negotiate a post-2020 deal to curb emissions and limit global temperature rise.
The 12-day conference, for the first time in over 20 years of UN negotiations, is aiming to achieve a legally binding and universal agreement on climate, with the aim of keeping global warming below 2 C over pre-industrial temperatures.