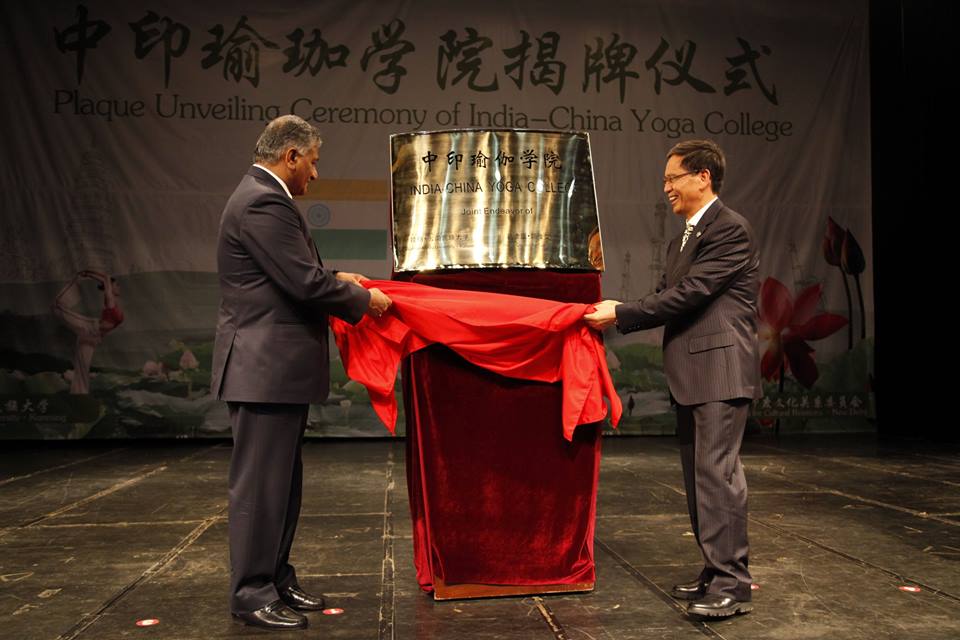 The China-India Yoga College has formally started classes in China's Kunming City and will open a "new window" in promoting cultural exchange and bilateral ties, officials said today.
The college, which is the first Yoga institute established by India outside the country, was set up during Prime Minister Narendra Modi's visit in May.
The formal operation of the college coincided with the visit of India's Culture Minister Mahesh Sharma who arrived in Kunming to attend the China International Travel Forum.
The college is functioning from Yunnan Minzu (Nationalities) University, featuring yoga and shadowboxing performances by 1,000 students and yoga students in Kunming.
The Yoga college began enrolling students at the beginning of November. Two Indian tutors are giving classes in small groups and India will send more teachers as the number of yoga learners increases.
Speaking on the occasion Sharma said China has become Yoga's "second home,".
By bringing Yoga to China, the college would promote cultural exchange and cement bilateral ties, he said.
"The college has opened a new window for China-India cultural exchanges and built a platform for regional cooperation in cultural and education sectors," said Gao Feng, vice governor of Yunnan Province.
Sharma headed the Indian delegation comprising officials of the Ministry of Tourism, five State governments and Industry partners to attend the China International Forum where he inaugurated the India-China Tourism Forum and India Pavilion stand to highlight the travel opportunities for India.
He also held talks with top Chinese tourism and provincial officials to promote Indian tourism in China and to encourage more Chinese tourists to visit India.
During his visit, Modi had announced granting of e-visas for visiting Chinese tourists to enable them to get easy accesses to Indian visas.
It was part of the efforts by India to attract Chinese tourists.
At the China International Tourism Forum, Indian tourism industry stakeholders presented their products and services to the travel trade worldwide.
About 20 co-exhibitors/partners comprising State Tourism departments, tour operators, airlines and other stakeholders took part in the India Pavilion to showcase their diverse tourism products and services.
The participating states from India included Karnataka, Telangana, Andhra Pradesh, Nagaland, and Haryana.
To promote travel between the two countries Shandong Airlines has launched a new flight directly linking Kunming with New Delhi four times a week, Indian officials said.