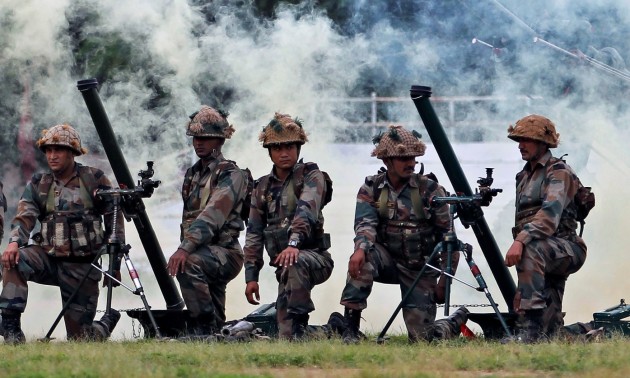 India and China on Wednesday carried out a joint army exercise in eastern Ladakh in Jammu and Kashmir, a move that comes amid hectic diplomatic maneuvering between the two countries over a host of issues like Nuclear Suppliers Group and designation of Masood Azhar as a terrorist by the United Nations, PTI reports.
During the day-long exercise on humanitarian aid and disaster relief, a fictitious situation of an earthquake striking an Indian border village was painted. Joint teams then carried out rescue operations, evacuation and rendering of medical assistance.
This was a follow-up on the first joint exercise held on February 6 in the area near the border personnel meeting huts at the Chushul Garrison of eastern Ladakh, along with Chinese troops of Moldo Garrison.
Sources told PTI that in February, the exercise was held in the Chinese side and this exercise was staged in the Indian side along the Line of Actual Control (LAC).
India and China fought a war in the region in 1962 over a border dispute. An agreement was signed in 1996 to try and defuse the conflict and a mutually agreed Line of Actual Control was set up. Since then, both sides have accused the other of incursions across the border and expanding military units in the area.
The Indian team for the exercise was led by Brigadier RS Raman and that of the Chinese was led by Senior Colonel Fan Jun.
The exercise was a great success and has not only refined the drills to provide succor to the border population in case of natural calamity, but has also increased the level of trust and cooperation between the two forces guarding the border along the LAC in eastern Ladakh, the Indian army said in a statement.
The joint exercise, compliments the "Hand in Hand" series of the India-China joint exercises and the effort of both the nations to enhance cooperation and maintain peace and tranquillity along the border areas of India and China, it said.
This year's edition of "Hand in Hand" will be held at Aundh, near Pune in Maharashtra, from November 15 to 27.
In another defense-related report, after protracted negotiations, Russia has agreed to lease a second nuclear submarine to India in a deal which will cost around US$2 billion.
Sources said the deal was struck during the meeting between Prime Minister Narendra Modi and Russian President Vladimir Putin on October 15 on the sidelines of a BRICS summit in Goa.
BRICS is an association of five major emerging national economies: Brazil, Russia, India, China and South Africa.
However, the submarine deal was not part of the slew of announcements made after the talks.
The Akula 2 class submarine is expected to arrive in Indian waters in 2020-21.