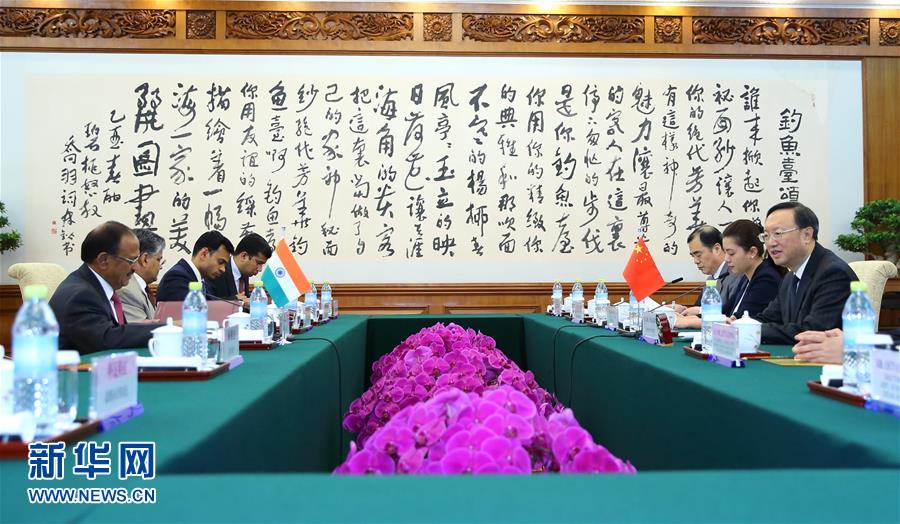 BEIJING: India and China today agreed to adhere to "peaceful negotiations" to settle the vexed border issue and reach a "fair, reasonable and mutually acceptable solution", amid negativity over Beijing's blocking of India's bid in the UN to ban Pakistan-based JeM chief Masood Azhar.
The decision was taken during the annual 19th round of boundary talks here between National Security Advisor Ajit Doval and his Chinese counterpart Yang Jiechi to discuss the way forward to resolve the dispute which has bedevilled the relations between the two countries.
Both the leaders had an "extensive, deep and candid" discussion on the 3,488 km-long Line of Actual Control (LAC), which remains undemarcated resulting in tensions between the two sides.
Both sides agreed to adhere to "peaceful negotiations to settle the boundary question". They will make efforts to reach a "fair, reasonable and mutually acceptable solution", according to a Chinese Foreign Ministry statement.
Besides the border issue, Doval and Yang, the designated Special Representatives, also have a larger mandate to discuss all contentious bilateral, regional and international matters of mutual concern.
Welcoming Doval, Yang in his opening remarks at the meeting said: "Your visit fully signifies the importance Indian side attaches to this meeting and the efforts to further promote the strategic partnership between China and India.
"China-India relations carry special significance. China stands ready to use this important occasion to have a broad- ranging in-depth and candid discussion with Indian side on the bilateral relations, boundary question, regional and international issues and other issues of shared interest."
Doval in his response spoke about the importance of informal talks between him and Yang, saying "not talking from the mind but also from the heart".
The statement, carried by state-run Xinhua news agency, said that the two sides will properly manage differences and safeguard peace and tranquility in the border areas so as to create favourable conditions for development of their ties.
Both sides shared the view that China-India relations have broad prospects and Beijing and New Delhi have far more common interests than differences.
Bilateral ties have entered a new era of comprehensive and rapid development since Chinese President Xi Jinping paid a successful visit to India in 2014 and Prime Minister Narendra Modi travelled to China in 2015, it said.
Both sides should implement the important consensus between the leaders, enhance high-level interactions, tap the potential of cooperation, and promote China-India relations to a higher level, it said.
The issue of China putting technical hold on India's recent bid to bring about a UN ban on Jaish-e-Muhammad (JeM) chief Azhar for his involvement in the Pathankot terrorist attack was also said to have figured during the talks.