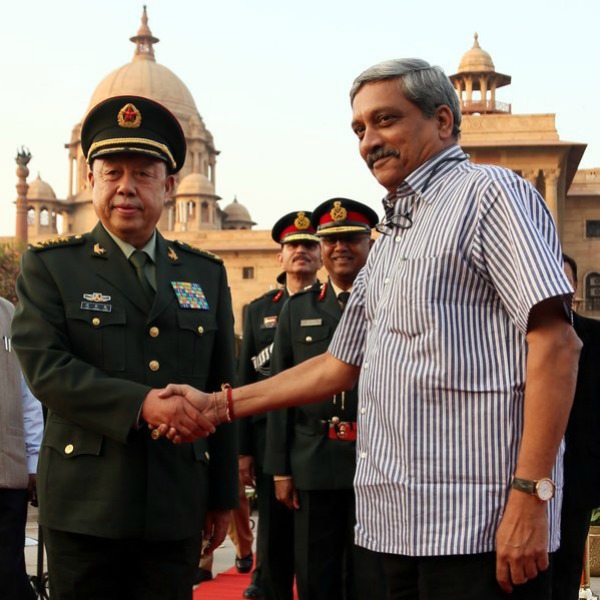 India and China on Monday decided to deepen bilateral defence ties and maintain peace and tranquillity at the Line of Actual Control (LAC) besides strengthening cooperation against terror, including at the international level. The decisions came after the meeting between a visiting 26 -member delegation led by General Fan Changlong, Vice-Chairman of China's powerful Central Military Commission (CMC) and the Indian side, which was headed by Defence Minister Manohar Parrikar, at South Block here. This is the highest-level Chinese defence delegation to visit India in recent years.
Both Parrikar and Gen. Fan condemned the recent terror strike in Paris and agreed to strengthen cooperation to together fight the menace of terrorism, including at the international level, a late night statement by the Defence Ministry here said. Parrikar also offered to share India's expertise in fighting terrorism by way of joint exercises, among other initiatives. "The visit signifies the enhanced defence exchanges between India and China. During the meeting with Defence Minister, the two sides agreed to implement the consensus reached between Prime Minister Narendra Modi and President Xi Jinping to ensure peace and tranquillity in the India-China border areas," the statement said.
Gen. Fan and Parrikar were of the view that peace and tranquillity in the India-China border areas is the cornerstone for smooth development of bilateral relations in diverse areas. "They felt that the two armed forces shoulder important responsibilities for maintenance of peace and tranquillity and agreed to further enhance communications and exchanges between the two armed forces," it said. The two sides welcomed the operationalisation of additional border personnel meeting points. They reviewed the ongoing exchanges and expressed satisfaction at the recently-held bilateral military exercise, 'Hand-in-Hand'.
Meanwhile, taking note of the intensification of defence exchanges, the Indian side welcomed the proposal for the visit of Commander of Lanzhou Military region to India early next year. Gen. Fan also extended an invitation to Parrikar to visit China, which he accepted. The dates will be decided through diplomatic channels.
Gen. Fan will be calling on Prime Minister Modi tomorrow before leaving India at the conclusion of his visit.