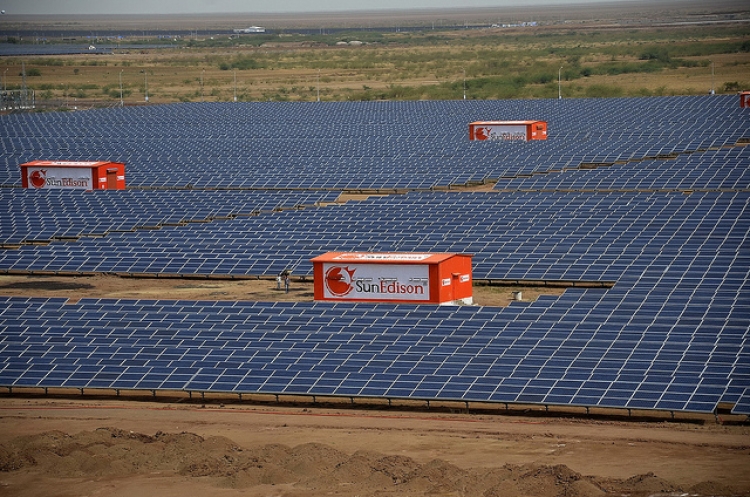 India's government has now approved 27 solar parks, bringing the aggregate capacity to 18,418MW across 21 states and union territories.
In a written letter replying to a question in the upper house of the Parliament of India, known as Rajya Sabha, energy minister Piyush Goyal said the total cost for the scheme remains at INR40.5 billion (US$606 million).
Until now the government's 'Development of Solar Parks and Ultra Mega Solar Power Projects' initiative only earmarked 25 solar parks for development and the government had also said these 25 parks would add up to 20GW capacity.
Each of the 'ultra mega' solar parks will have a minimum capacity of 500MW.
G.K. Ramakrishnan, head, business development at India-based EPC, Larson & Toubro, told PV Tech: "Typically when you set up a project, land becomes a problem, permits, evacuation, off-takers. These are four major problems when any power project is set up. Solar parks are already tied up with state governments as well as utilities. This ensures evacuation is taken care of and land is already acquired."
In this way, the solar parks reduce project development to simply winning a bid for capacity and setting up the solar modules and inverters.
Back in September, prime minister Narendra Modi, promoted the importance of solar parks and urged state governments to work on policy frameworks to make implementation of the projects as efficient as possible.
However, MNRE joint secretary Tarun Kapoor said that the country's first solar park in Gujarat, the Charanka solar project, which was set up while Modi was chief minister of the state is still not at full capacity as the price of land became higher than expected. Land prices for parks in Karnataka and Rajasthan were also higher than expected.
Nevertheless Kapoor said: "The advantage is that huge chunks of land are absolutely clear with no litigation."
Kapoor also recently announced that India would also be introducing 'Solar Zones', which will be even larger than the mega solar parks.
Unlike with solar parks, the government will not purchase land for the solar zones. However, the land areas will be far larger and the government will acquire transmission facilities and provide certain infrastructure facilities such as roads and water. While land acquisition will be left to PV developers, MNRE will provide information on where government and private land is available. There will be at least three or four solar zones and they will be announced within the next two months, said Kapoor.