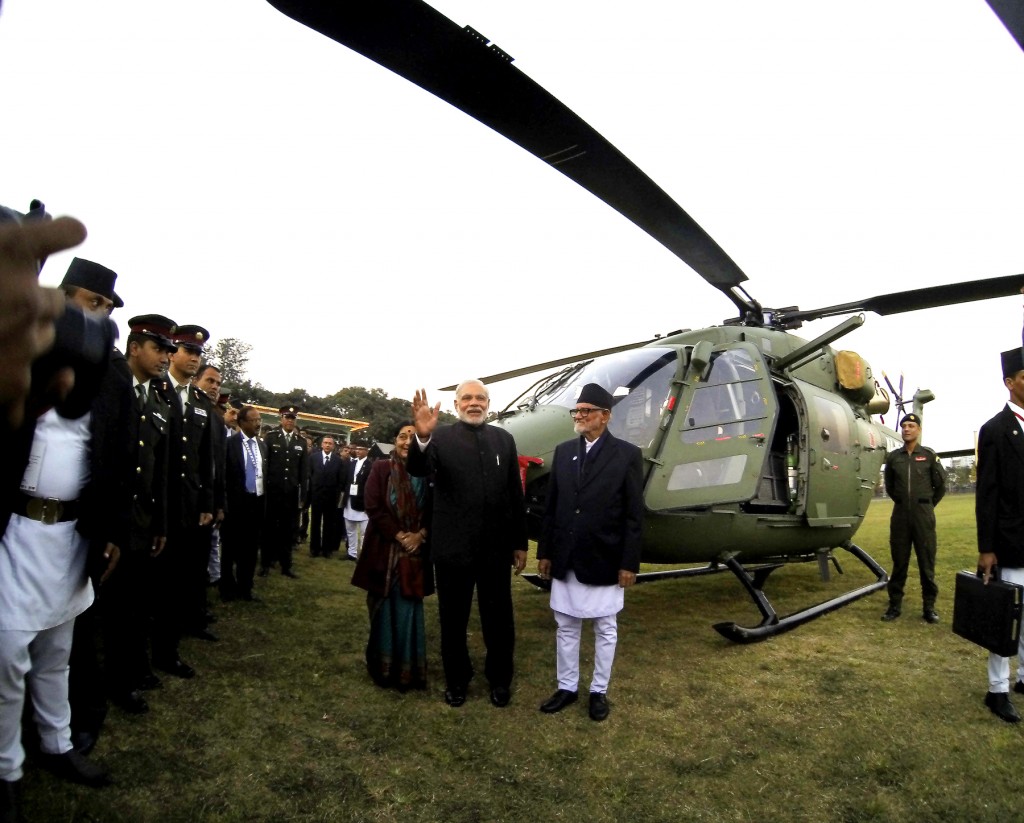 NEW DELHI: India's prime minister is expected to promote deals for Russian nuclear reactors and military helicopters worth billions of dollars on a trip to Moscow next week, attracted by promises to transfer technology that Western nations have been slow to make.
Russia and India will manufacture 200 Kamov-226T helicopters in a joint venture, a Russian and an Indian government official said, in the first big step for Indian Prime Minister Narendra Modi's campaign to build a domestic industrial base and reduce the military's dependence on expensive imports.
Modi, who heads for Moscow on Dec. 23, will also offer Russia a site in the southern state of Andhra Pradesh to build six nuclear reactors of 1,200 megawatts (MW) each, the same sources added.
That is in addition to the six Russia is constructing in neighbouring Tamil Nadu state, said the officials, who spoke on condition of anonymity because they were not authorised to speak to the press.
New Delhi has turned to Russia as U.S. firm General Electric and Westinghouse, a U.S.-based unit of Japan's Toshiba, are still weighing an entry into India's nuclear energy sector because of a law that makes reactor suppliers liable in case of an accident.
Modi's "Make-in-India" push for a military that has been the world's biggest importer for the last four years has also made little headway, with negotiations stalled over issues including technology transfer and the local assembly of equipment.
For Russia, India offers an alternative, fast-growing outlet for its exports as sanctions imposed by the West squeeze the economy.
"While others are making promises, Russia is moving forward with the Make-in-India programme," the Russian government source said.
RUSSIA LET DOMINANCE SLIP
Moscow, which has maintained close ties with India since the Cold War, has in recent years slipped behind the United States and Israel in securing orders in the Indian defence market, estimated to be worth $130 billion over the next seven years.
Now Russian President Vladimir Putin is banking on India's drive to manufacture at home to regain market share.
"The objective is that whatever we do with Russia, that will have a 'Make-in-India' component," said Amitabh Kant, the top Indian bureaucrat leading the push to turn India into a global manufacturing base.
Under an inter-government agreement to be signed during Modi's trip, Moscow will set up a production line for the light helicopters that will supply the Indian military but also eventually Russia, the Russian official said.
India's state-run Hindustan Aeronautics and Anil Ambani's Reliance Defence are in the running as local partners for the deal for the 200 twin-engined helicopters, estimated at $1 billion, to replace India's ageing fleet of Cheetah and Chetak helicopters.
"The choice of the Indian partner has been left to the Indian government. We will work with anyone the government nominates," the official said.
India is also turning to Russia to secure overseas energy assets to help fuel its economy.
Indian Oil Corp and Oil India, both state-owned, are in talks with Russia's Rosneft to buy up to a 29 percent stake in a Siberian oil project, two sources said on Friday.
RUSSIA HAS THE ADVANTAGE
The helicopter deal would be the first major contract under Modi's drive to build weapons at home that has excited local defence companies but failed to deliver any significant tenders.
As some Indian manufacturers look to Western firms for the tie-ups needed to bring in technology and build locally, Reliance is forging closer ties with Russia to jumpstart its nascent bid to develop a defence business from scratch.
A Reliance executive, who asked not to be named, said negotiations to win the joint helicopter venture would not start until the two governments had agreed the deal. Hindustan Aeronautics did not respond to a request for comment.
A source close to Rosoboronexport, Russia's state-owned arms exporter, said India would produce 140 of the choppers and Russia the remaining 60.
Pre-contract work is underway and the two sides expect to clarify the agreement during Modi's visit, the source said.
An Indian government official confirmed the plan to sign the helicopter deal as well as the proposed offer of Andhra Pradesh as the location of the next set of reactors to be built by Russian state-owned nuclear firm Rosatom.
The two sides have not given any value for the deal. Rosatom spokesman Sergey Novikov said there were no plans yet to sign any contracts during Modi's visit.
Nandan Unnikrishnan, an expert on India-Russia relations at the Observer Research Foundation, said that despite New Delhi's tilt towards the West for military hardware in recent years, Russia retained an edge in many areas.
"Russia has a distinct advantage over everyone in understanding how Indian bureaucracy works, given the level of trust that exists in the Indian establishment vis-a-vis Russia," he said.