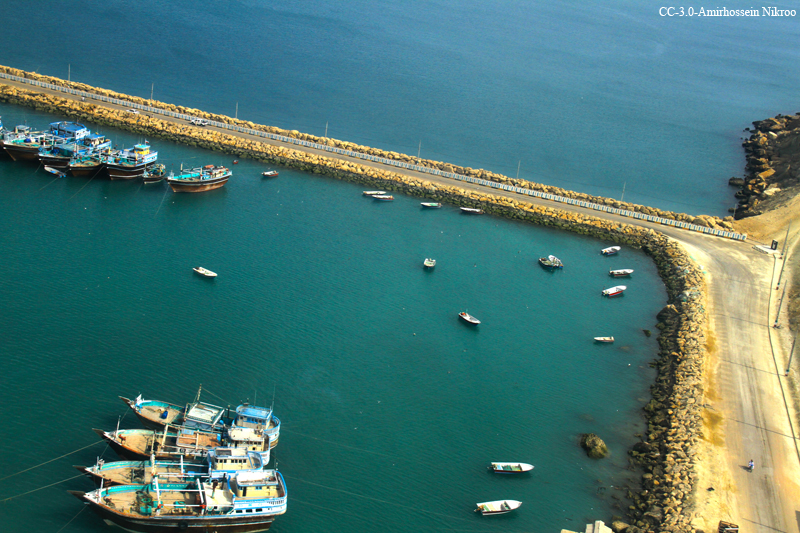 NEW DELHI: India and Iran are trying to iron out irritants and conclude contract by January for the expansion project of the strategically located Chabahar Port after over six months Shipping Minister Nitin Gadkari had concluded MoU on the project – proposed gateway to landlocked Afghanistan.
Official of both sides are negotiating terms of the contract with a hope to conclude the document by next month for an Indian investment of $ 85 million to construct two berths at the Chabahar port. The MoU for much delayed Indian investment to expand Chabahar port was signed last May when Road Transport, Highways and Shipping Minister Nitin Gadkari visited Tehran weeks before Iran's landmark nuclear deal with the Western powers.
An Indian team was in Tehran this week to discuss contract of the project. Iran affairs experts point out that negotiations with Iran are less easier said than done. It is understood that the Chabahar contract is being negotiated clause by clause. Earlier differences developed after Iranian port authorities told India that the port building contract had been awarded to an Iranian company Aria Badaner even after the MoU was signed with Delhi. Senior Iranian Ministers have sought to downplay the issue as local problem.
Iran has also conveyed to India that it wants to utilise part of the amount (oil payment dues) remaining with Delhi to fund joint venture projects including in Chabahar. Iran has conveyed to India that it is not seeking to take back entire oil payment dues.
Experts pointed out that an early visit by the PM to Tehran will give push to bilateral relations and enable to remove irritants in implementing projects in Iran. Sources recalled that Narendra Modi and the Iranian President had excellent meeting in Ufa last July where all bilateral issues and projects were discussed. Senior Indian officials later visited Tehran to discuss bilateral cooperation including security partnership.
The atmosphere for Indian investments in Chabahar and other areas in the Persian Gulf country will be further conducive after the IAEA on Tuesday ended its 12-year investigation into concerns that Iran might be developing nuclear weapons. The move is seen as a key step towards lifting UN, EU and US sanctions. The lifting of sanctions, agreed in a July deal with world powers, hinged on the IAEA's findings on the issue.
The Iranian side has been pushing India for honouring the investment commitment for Chabahar port at an early date with the issue figuring at many senior-level bilateral meetings. The Shipping Ministry is the nodal ministry from the Indian side. The remaining $ 15 million of the total $ 100 million commitment for the project in Southeastern Iran will be invested in other areas of Chabahar port complex. Delhi will also consider at a later stage to invest in the railway project to connect Chabahar with Iranian rail network.
Tehran has offered a proposal to Delhi to help build over 500-km-rail link from the Chabahar in Southeast Iran to connect with Zahedan, capital of Sistan-Baluchistan province. Zahedan is connected with the main Iranian railway network and the proposed rail link when concluded will join Chabahar with International North South Transport Corridor and provide access to Azerbaijan, Turkmenistan and beyond.
Chabhar could also be linked with Delaram-Zaranj road (built by India in Afghanistan & connects at Afghan-Iran border) via rail through Zahedan. A road already connects the Iran-Afghan border point to Chabahar. The 218-km road from Zaranj on the Afghanistan- Iranian border to Delaram in Nimruz province where it connects the Afghan Garland Road. The grand strategic plan is to connect Chabahar through Zahedan into Afghanistan and on the other side, have a shipping line to key Indian ports on the Western coast. Delhi and Tehran are sorting out differences over India's participation to build rail link between Zahedan and Afghan-Iran border connecting Delaram Zaranj road.
India would also be keen to invest Rs two lakh crore in the Special Economic Zone in Chabahar at a later stage, officials hoped. Indian private players could play key role in this.
Meanwhile, Delhi is also exploring possibility of trilateral shipping and connectivity arrangement between India-Oman-Iran. Oman is building a new port and SEZ in Duqm (midway between Muscat and Salala) and India is keen to take advantage of that, people familiar with the developments said. Experts on West Asia point out that Oman enjoys better relations with Iran compared to other five hydrocarbon-rich Gulf nations.