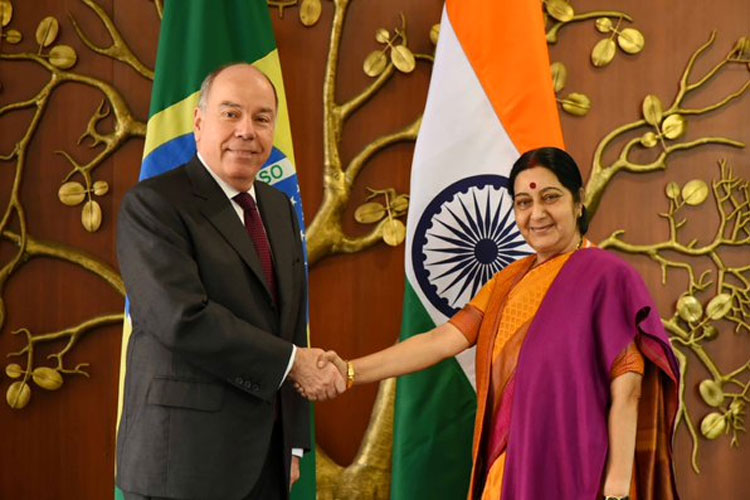 NEW DELHI: Aiming to scale up economic engagement, India and Brazil today decided to boost ties in sectors like infrastructure, trade and investment and mining besides exploring opportunities in nuclear energy sphere.
At the seventh India-Brazil Joint Commission Meeting (JCM), co-chaired by External Affairs Minister Sushma Swaraj and her Brazilian counterpart Mauro Vieira, both sides resolved to exploit the "full potential" of the strategic partnership, with a particular focus on ramping up trade ties.
India and Brazil, both having huge markets, are part of a number of important bloc including BRICS (Brazil Russia, India, China and South Africa) and IBSA (India, Brazil, South Africa) and they work closely in various multilateral forums.
Strongly pitching for concerted global efforts to deal with terrorism, Swaraj and Vieira condemned direct or indirect financial assistance to terror groups, saying international community must focus on choking channels of their fundings.
"They urged the international community to cooperate with urgency to conclude and adopt the draft Comprehensive Convention on International Terrorism in the United Nations at the earliest," said a joint statement.
It said both the countries stressed that the UN has a central role in coordinating international action against terrorism, which must be conducted in accordance with international law.
On nuclear energy sector, both sides, in pursuance of recent discussions between Prime Minister Narendra Modi and President Dilma Rousseff, agreed to further explore mutually beneficial cooperation.
Swaraj and Vieira reviewed cooperation of the two countries in the defence sector and agreed to strengthen joint efforts on promoting cyber security, combating cybercrime, and improving cooperation between law enforcement agencies.
"Both Ministers stressed their full commitment to promote a secure international maritime domain freedom of navigation in accordance with international law and norms. Towards this end, both sides are working on signing a Technical Agreement for White Shipping Information Sharing," the statement said.
On trade relations, the Ministers expressed satisfaction at the enhanced bilateral trade turnover of USD 11.42 billion in 2014. At the same time, they acknowledged that there is tremendous potential for further growth and diversification of trade including in sectors like infrastructure, trade and investment and mining among others.
A significant number of Indian companies have invested in Brazil with over 50 of them having involved in sectors areas such as oil, renewable energy, mining, automotive services and pharmaceuticals.
The two sides deliberated on the need to reform the UN Security Council and the IMF and ways to deal with challenges of terrorism, climate change, besides issues related to WTO and the Doha Development Agenda.