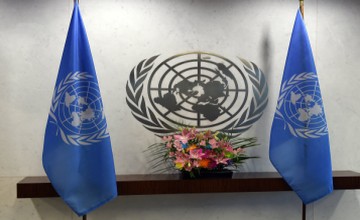 India has abstained from voting on the applications of an American and a Palestinian non-governmental organisation for special consultative status in a UN committee.
India was the sole abstention in the vote for US-based Freedom Now, which works to free individual prisoners through legal, political and public relations advocacy efforts.
In a voting conducted during the meeting here of the Economic and Social Council (ECOSOC) on May 29, the UN Committee on Non-Governmental Organisations rejected Freedom Now's application for NGO consultative status.
Of the 19 members in the committee, 11 voted against Freedom Now, including Azerbaijan, Burundi, China, Cuba, Iran, Nicaragua, Pakistan, Russia, South Africa, Sudan, and Venezuela.
Greece, Israel, the United States and Uruguay voted in favor while India abstained.
Guinea, Mauritania, and Turkey were absent during voting.
India also abstained from voting on the application of The Palestinian Return Centre, which was granted special consultative status by a recorded vote on Tuesday of 12 in favour.
While Israel, US and Uruguay voted against the center, Greece and Russia abstained from voting.
Freedom Now Executive Director Maran Turner expressed disappointment over the outcome of the vote.
"There are member states on the NGO Committee that seem intent on interfering with the work of NGOs, including both those working within the borders of their states but also internationally, such as Freedom Now.
"It is a very worrying trend indeed when the United Nations is used as a mechanism by member states to harass civil society and international organisations seeking to address human rights violations," Turner said in a statement.
China's delegate, who voted against Freedom Now's candidacy, said all organisations seeking consultative status must respect United Nations values and principles.
"It seems that this is not the case for this organisation which, on its website, launches unfounded accusations against countries," he said.
On the Palestinian centre, Israel's representative said accrediting the Centre is "accrediting Hamas", which had been designated as a terrorist group by a number of nations and research institutes.
Approval for the NGO could lead to a precedent for the acceptance of groups with known links to terrorism, she said adding that the organisation had invited a senior leader of Hamas as a guest speaker.
The Committee "cannot allow itself to accredit organisations with even a shred of doubt" as to the its affiliations, she said.
The 19-member Committee vets applications submitted by non-governmental organisations and can recommend that ECOSOC grant general, special or roster status on the basis of such criteria as the applicant's mandate, governance and financial regime.
The Committee General consultative status applies to large international organisations whose interests cover most of the Council's agenda.
Special consultative status applies to organisations internationally recognized for their focus on certain areas of the Council's agenda.
Among the 15 organisations that obtained this status were India-based Eurasia Reiyukai, which aims to create a better world through personal development, and Switzerland-based International-Lawyers.org, which promotes global justice.
Roster status applies to organisations that occasionally contribute to the Council's work.
The Committee postponed requests for accreditation by US-based NGO United Sikhs after India asked about the group's address in that country and about the reasons for its registration in Belgium and Kenya.
The request by India-based NGO India Media Centre was also postponed after China's delegate requested details about its activities carried out with the United Nations.
The application of Jammu and Kashmir-based Global Mass Community was deferred as the representative of India asked for more information about the organisation's income and expenditure.
India-based Shah Satnam Ji Green-S Welfare Force Wing's application was also deferred as Pakistan's speaker asked for more clarity on the organisations revenue sources.