Chinese stocks extended seven-year high on Monday, with the benchmark Shanghai indexup nearly 3.4 percent, amid speculation that cross-border sales of mutual funds will fuel themarket.
The Shanghai Composite Index surged 156.2 points to close at 4,813.8, while the ShenzhenComponent Index advanced 1.9 percent to 16,351.06.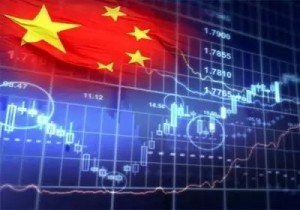 Construction and infrastructure-themed stocks led the gain, as the industry measure jumpedmore than 5 percent. Aviation material developer AVIC Sanxin Co, Zhongtai Bridge Co andsmart city solution provider Shenhua Smart Tech rallied by the daily limit of 10 percent.
Highway constructors and operators including Jinlin Expressway, Sichuan ExpresswayCompany, and Jiangxi Ganyue Expressway Co jumped by the daily limit.
Military industrial companies also led the gain, with stocks such as AVIC Aircraft and ChinaSpacesat Co soaring by 10 percent.
Stock turnovers at the two bourses reached 2.03 trillion yuan ($326.5 billion) on Monday.
China Securities Regulatory Commission announced the long-awaited mutual fundrecognition plan on Friday, promoting opening up of the country's capital markets.
According to the announcement, the cross-border sales of mutual funds between the Chinesemainland and Hong Kong will start on July 1, with an initial quota of 300 billion yuan in eachdirection.
About 100 Hong Kong-based and 850 mainland-based funds will qualify the mutualrecognition standards, where funds need to have been established for at least one year andhave at least 200 million yuan in assets.
The CSI 300, a main gauge for largest stocks in Shanghai and Shenzhen, soared 3 percent to5,099.5 on Monday.
'Inclusive' bull
Investors has been riding on an "inclusive" bull market, as 99.5 percent of stocks rose in thefirst four months this year, with only 14 out of 2,547 recording a decline.
Investors in Shanghai scored the highest gains, with an average of 156,400 yuan ($25,143),followed by Beijing investors whose profits averaged 80,200 yuan, reported Beijing YouthDaily on Monday citing data from RoyalFlush Information.
Investors nationwide on average gained about 14,000 yuan from January to April, accordingto the data, as the benchmark Shanghai index surged 37 percent in the same period.
The ChiNext Index, which tracks China's Nasdaq-style board of growth enterprises, hassoared 140 percent since the beginning of the year.
Of the 2,547 stocks, 397 saw their share price double, and 1,163 rallied more than 50percent, according to RoyalFlush Information.
The market sentiment remains bullish, as a gauge on investors' confidence rose 26.5 percentyear-on-year to 65.2 in April, despite a decline from 70.5 in March, a polling by Administrationof Securities Investor Protection Funds showed. The reading has stayed above 50 for 11consecutive months.