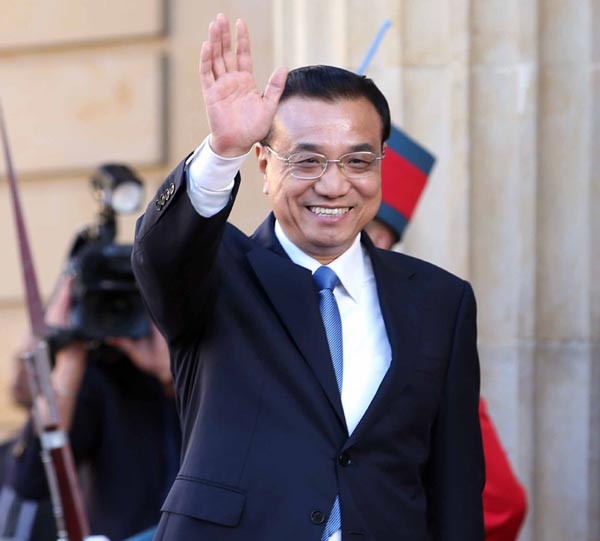 For China, South American countries are the farthest away in geographical distance, but the Chinese like the quote "a bosom friend afar brings a distant land near" by Tang Dynasty poet Wang Bo 1,300 years ago to describe the friendship.
The current trip to Latin America by Chinese Premier Li Keqiang, less than a year after one made by President Xi Jinping, has been largely seen as a testament of China's commitment to the relationship.
As Li visits Chile, the last stop of a four-nation tour that included Brazil, Colombia and Peru, many of the news reports have focused on the increasingly mutually beneficial trade and investment ties, such as the transcontinental railway project.
The BBC on Friday described the $100 billion railway across South America linking Brazil's Atlantic coast with Peru's Pacific coast as having "moved a step closer after Peru agreed to study the proposal".
BBC quoted Peruvian President Ollanta Humala as saying that the railway would "consolidate Peru's geopolitical position as a natural gateway to South America".
While some have raised concerns over the project's environmental impact, an AFP report quoted Li as saying in a declaration with Humala that "to create the infrastructure, it is necessary to protect the environment".
Writing in the Americas Quarterly, Eric Farnsworth, vice president of the Council of the Americas, said Li's trip follows on and is consistent with the promise that Xi made in January to invest $250 billion in Latin America and the Caribbean over the next 10 years.
"The promise of infrastructure development is not unwelcome, even by the United States, which sees chronic underinvestment in Latin America's creaking infrastructure to be a limiting factor in regional development," Farnsworth wrote.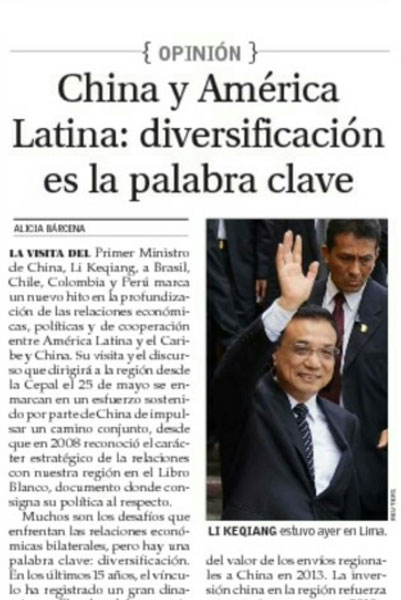 Meanwhile, the AFP quoted Brazilian Trade Minister Armando Monteiro as saying that "the trade agenda (with China) is very important, but at the moment the investment agenda is to a degree more important still".
China-Brazil trade increased tenfold in the past decade to $86.7 billion in 2014, although China still lags other countries in total investment in Brazil.
Jose Graca Lima, head of Asian affairs at Brazil's foreign ministry, said that a "second generation" of Chinese investment was under way. The first involved trade in raw materials, and the focus now is on heavy industry and infrastructure, according to the AFP report.
"China is fulfilling a desperately needed role of investor in Latin America and the Caribbean. Brazil desperately needs investment," Charles Tang, chairman of the Rio-based Brazil-China Chamber of Commerce and Industry, was quoted as saying in the AFP article.
The report said that Trade Minister Armando Monteiro hoped China would see Brazil as an important production platform for industrial goods in the region and beyond, using Brazil as a fulcrum for serving wider markets.
"Extending exports to China is something we want, but I do not know if we shall be able to obtain significant results short term," Monteiro said. "It would be a better strategy for China to produce in Brazil a range of goods that today we import and China exports, such as electronics."
A story by the Telegraph in London quoted Sergio Amaral, a former Brazilian diplomat and trade minister who runs the China-Brazil Business Council, as saying that the Chinese had come to pursue concrete deals.
"This is not a meeting for simply swapping name cards," he told O Globo, Rio de Janeiro's leading newspaper.
Li is accompanied by a business delegation of more than 100 people.
On China's offer of a $50 billion investment deal to help the 2016 Olympics host Brazil overhaul its infrastructure, Telesur, a pan-Latin American TV network, said "the financial commitment from China to Brazil marks the strengthening of ties between the two countries".
MercoPress, an online news agency based in Uruguay, said that the injection of capital from China could not come at a better time for Brazil, which is sliding into recession following the end of a commodity boom.
As China's economy slows, Chinese companies are looking abroad for new opportunities to invest, and Chinese banks have begun to provide abundant financing. It said China lent more to Latin America last year than the World Bank and the Inter-American Development Bank combined.
In a separate report, MercoPress highlighted Li's trip to Colombia, where the two sides discussed the possibility of initiating talks aimed at signing a free trade agreement.
China and Chile, where Li is visiting, already have a free trade agreement that was signed in 2005.