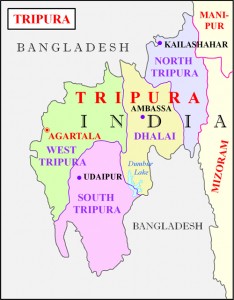 AGARTALA: Tripura Industrial Investment Promotion Incentive Scheme, 2012 has been revised to boost the state economy and attract potential investors to set up industries based on local resources, Chief Minister Manik Sarkar has said.
"The decision to revise the scheme was taken in the meeting of the council of ministers because over the years the state could create an industrial-friendly environment and develop infrastructure for setting up industries based on local resources like rubber, bamboo, natural gas and agro and horticultural products," Sarkar told reporters last night.
He said the capital investment subsidy will be raised from existing 30 per cent to 35 per cent with overall ceiling from the existing Rs 50 lakh to Rs 60 lakh.
"To promote employment of local people in the private enterprises, 100 per cent reimbursement of expenditure for medium and small enterprises on account of contribution towards ESI and Employees Provident Fund (EPF) scheme for a period of five years subject to employment of 20 and more people skilled and semi skilled workers in the state," he added.
Sarkar said, since 2001, so far 12,677 beneficiaries under 'Swavalamban' scheme have been assisted with Rs 206.13 crore. The subsidy was raised from the existing Rs 65,000 to Rs 75,000 with effect from April this year.
"Investment-friendly environment exists in the state because law and order situation is now improved with the containment of insurgency and the state is now in the broad gauge map of the railways.
Sarkar said to support the Self Help Groups (SHG), the start up soft loans of Rs 50,000, comprising government and banks, of Rs 25,000 each was raised to rupees one lakh. So far 8,327 SHGs have been funded by the government.