Multilateral lending agency says currency is 'not undervalued'
The Chinese currency, known as the yuan or renminbi, is "no longer undervalued", theInternational Monetary Fund said on Tuesday in Beijing, after maintaining for a long time thatChina's currency was "modestly undervalued".
"While undervaluation of the renminbi was a major factor causing the large imbalances in thepast, our assessment now is that the substantial real effective appreciation over the past yearhas brought the exchange rate to a level that is no longer undervalued," the IMF said in astatement after a visiting team completed consultations with Chinese officials.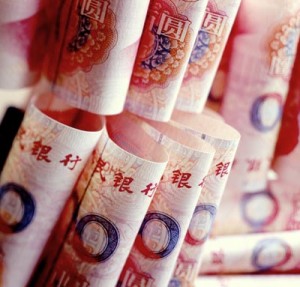 The IMF has previously labeled the yuan as "modestly undervalued", despite the currency'sgradual appreciation since a landmark 2005 revaluation. The yuan has gained sharply againstmost non-dollar currencies in recent months. Even against the strong greenback, the yuanrose 0.6 percent in the past 12 months.
Asked to explain the change in evaluation, David Lipton, the first deputy managing director ofIMF, stressed that the assessment is based on the present situation and subject to futurechanges.
"It is a judgment about this moment, and may change in the future," he said. "China'sproductivity is growing, and probably growing more rapidly than the rest of the world. Everycurrency has to adjust to the differentials in productivity."
He said despite the yuan's appreciation, China's external position is still moderately stronger(in a reference to China's large trade surplus) than being consistent with medium-termfundamentals. The fact highlights the need for other policy reforms to reduce excess savingsand achieve sustained external balance.
"We believe that China should aim to achieve an effective floating exchange rate within two tothree years," the statement said.
The comments came as China is lobbying for the yuan to be included in the IMF's SpecialDrawing Rights basket of reserve currencies before the fund makes a decision in October.
IMF said it welcomes and shares China's objectives and will work closely with the authoritiesin this regard. The inclusion is not a matter of "if" but "when", Christine Lagarde, managingdirector of the IMF, has said.
Asked to identify the potential risks for China's economy, Lipton identified the excess in creditand investment, rising nonperforming loans, and lack of corporate governance in the State-owned enterprise sector, which led to irresponsible borrowings, or what economists describedas "soft budget restraints".
The IMF urged the government to "break the web of implicit guarantees", which are prevalentthroughout the financial system. Though admitting it cannot be done overnight, the process"must start and will involve greater acceptance of defaults and bankruptcies".
The IMF consistently called for the government to level the playing field between State-ownedenterprises and private firms. Progress on SOE reforms has been too slow, the fund said.
China should step up fiscal support for its economy if growth dips below 6.5 percent this year,the fund said. The IMF expects China's economic growth to be 6.8 percent this year, beforeslowing further to 6.25 percent in 2016.
"If incoming data suggest that growth is likely to exceed 7 percent, the authorities should takeadvantage of the opportunity to reduce vulnerabilities faster," the IMF said. "If instead growthlooks set to dip below 6.5 percent, then fiscal policy should be eased."