The country is ideally positioned to develop the technology and the spin-offs would be large.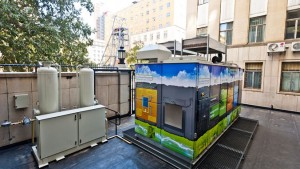 The Chamber of Mines in central Johannesburg has power even when load-shedding brings the rest of the country, including the chamber's own members, to its knees.
This is thanks to the 100 kilowatt (kW) platinum-based hydrogen fuel cell unit, which hums quietly in one of the outer quads of the building.
Fed by the Egoli Gas network, the unit powers a building that houses about 340 people, including businesses that rent space from the chamber.
At its peak, the office block draws 120kW, according to the head of information service at the chamber, Jeannette Hofsajer-van Wyk.
The whole building cannot be linked up to the fuel cell system because of its age and resultant complications with its wiring.
But 70% of the organisation's critical equipment is hooked up to the generator, so the chamber can stay up and running when the power goes down.
Steady performance
The fuel cell unit has performed steadily, "with no hiccups", since its installation and launch in mid-December last year, according to Hofsajer-van Wyk.
Proponents believe this technology has huge potential for South Africa – not only as a cleaner way to provide baseload electricity but also because platinum is the catalyst in many fuel cell designs, which could increase demand for the country's enormous platinum reserves.
Baseload refers to a permanent level of energy that a power plant can produce at a constant rate. Power from renewables such as wind or solar is more intermittent.
The chief challenges to the adoption of fuel cells are the capital costs involved and the need for gas as a fuel.
Nevertheless fuel cell technology is increasingly being explored and promoted locally.
Besides the chamber's unit, which is a phosphoric acid fuel cell, Anglo Platinum is using a fuel cell to power 34 homes, linked to a mini-grid, in the rural community of Naledi Trust near Kroonstad.
Off the grid
Impala Platinum aims to use fuel cells to eventually take its platinum group metals refinery in Springs off the national grid.
The first phase of the project, which will be completed in 2016, will see 1.8 megawatts (MW) provided by fuel cells, with the excess heat that is produced being integrated into the refinery's operations, according to the company. The second phase will see 22MW of power supplied by fuel cells.
Cellphone giant Vodacom uses fuel cells to power about 200 of its 10 000 baseload stations around the country.
Essentially, these green generators, through an electrochemical reaction using hydrogen and oxygen, produce electricity, with water and heat as by-products.
Depending on the technology used, the feedstocks can vary from pure hydrogen to liquid petroleum gas, methanol and biogas.
Fuel cells are often associated with cars and long-standing efforts to replace the internal combustion engine with this much cleaner technology. But the mass commercialisation of hydrogen powered cars has yet to gain real market traction, given the high cost of putting fuel cells, loaded with pricey platinum, into cars, and the need to establish a substantial network to supply hydrogen gas.
Stationary baseload fuel cells
Anthea Bath, the chief executive of Mitochondria Energy Company, the firm that will help bring Impala's plant online and was a partner in delivering the chamber's unit, says stationary baseload fuel cells have great potential for the country, both as a source of power and as an opportunity to establish a fuel cell manufacturing industry and value-added chain.
Bath said stationary baseload fuel cells in particular could play a key part in the growing market for distributed energy – or power that does not rely on large central generation plants and extensive grids.
This was particularly attractive to parts of Africa where distributed energy could leapfrog power infrastructure bottlenecks.
Bath said the cost of running a mine in Africa on diesel ranged between R4 and R6 a kilowatt hour. Depending on the price of gas, the cost of running a fuel cell to power a mine could be in the range of R2.70/kWh to R3/kWh.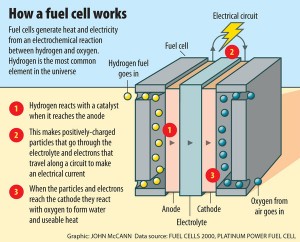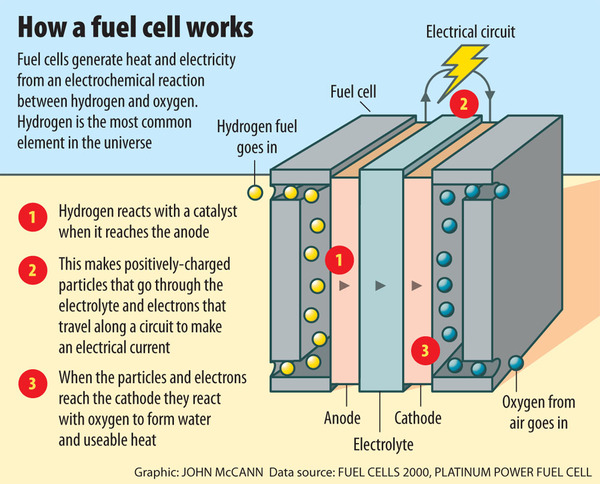 Fuel cells have a high upfront or capital cost, relatively low operating costs, a long life, high overall efficiency and are readily available. When the additional heat produced by fuel cells is used for co-generation, their efficiency rates can be as high as 90%, she said.
"When all this is taken into consideration, on a total cost, or levellised cost, the fuel cell competes well with the grid [in South Africa] today for industrial [and] commercial customers," Bath said.
Business sense
Mitochondria's local projects made business sense to its clients. "We would not be pursuing technology if the economics did not work," she said.
But, in South Africa's case, there is a caveat and that is the availability of a gas network. The economics of a fuel cell changes substantially when access to a gas network is not assured and there is access to the Eskom grid.
"We believe that, despite our current views of Eskom, South Africa still largely has a strong grid and fuel cells may not always be the best solution," Bath said.
This was particularly the case when fuel cells were used as a back-up and did not run all of the time, which made them expensive.
In Vodacom's case, its fuel cells are used for backup power, at a capital cost of R60 a KW/h, said spokesperson Richard Boorman.
Besides that cost, the company had also experienced problems in obtaining spares locally, with maintenance and support, and with the availability of fuel. But fuel cells were far cleaner and quieter than diesel generators, which were also prone to theft of fuel, he said.
Logical solution
Bath said fuel cells were a logical solution for telecoms in other parts of Africa, where electricity grids were limited. She added that, with the further development of fuel cell technology, the capital costs would decline.
Christo Fourie, the head of the recently established new industries unit of the Industrial Development Corporation (IDC), said the corporation was looking at the potential of the development of fuel cell technology, among 18 other burgeoning sectors. He said the IDC was aiming to shortlist four industries, by June 30 this year, to be prioritised for pro-active development.
Fuel cell technology is in a race against other candidates such as renewable energy components, technology for improved healthcare delivery and water related technology, including desalination.
The government, through policies such as the Industrial Policy Action Plan, has identified fuel cells as an important potential industry because it could add to the platinum value chain and promote beneficiation of the metal.
But, Fourie said, for the IDC to build new industries, the business case had to make commercial sense. "It has to be commercially viable," he said.
According to the IDC, the capital cost of fuel cells are currently about four to five times more than a similar capacity diesel generator but, based on current knowledge, fuel cells had a longer lifespan, depending on their application and use.
Capital outlay
According the IDC's estimates, the capital outlay for fuel cells could be about R35-million to R50-million per megawatt. Fourie said fuel cells had two main constraints: the absence of low-cost manufacturers and a cheap supply of fuel.
According to the IDC, there is significant latent demand for power and the improvement of existing power supplies in sub-Saharan Africa. But awareness about fuel cells is limited. In addition, there are no financial mechanisms in place to overcome the barriers to the adoption of the technology, and access to an appropriate fuelling infrastructure is limited, in particular for larger installations.
There is, however, a large potential market, in the form of telecoms, which could drive economies of scale, and a secondary market of off-grid installations and large data centres, which require a consistent power supply.
Other nations are championing the development of fuel cells. Bloomberg reported recently that the South Koreans are aiming to do for fuel cells what China did for solar panels.
South Korea's Doosan Corporation is buying up fuel cell companies internationally and its vehicle manufacturers are promoting electric vehicle powered by hydrogen fuel cells.
According to Bloomberg, South Korean government incentives and a lack of domestic energy sources have made the country the top fuel cell market in the world.
But, Bath said, South Africa should own fuel cell technology because of the country's power shortages, the importance of platinum to fuel cells, South Africa's industrial focus and the opportunities for beneficiation.
She added that no one had "won the race" to manufacture fuel cells and South Africa had a real opportunity to exploit this because of the wide range of benefits.
"This is much bigger than one project," she said. "It's about mining, it's about South Africa Inc."