By Jay Forte, Contributing Reporter
RIO DE JANEIRO, BRAZIL – On Tuesday, June 9th, HSBC bank announced it intends to terminate its activities in Brazil and Turkey, but plans to keep a stake in Brazil to serve large corporate clients. The statement said the bank expects to save between US$4.5 billion and US$5 billion by 2017 with the restructuring plan.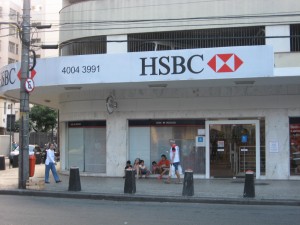 According to today's report, HSBC wants to increase its investments in Asia, mainly in China and in the region of the South Asian Nations Association (ASEAN), through the expansion of asset management and insurance with a focus on emerging markets.
"The world is increasingly connected. There are expectations that Asia has high growth and become the center of world trade in the next decade. I am confident that our actions will allow us to keep up with growth opportunities and give more return to shareholders," the executive chairman of the bank, Stuart Gulliver, said in a statement.
According to O Globo, HSBC will eliminate almost 50,000 jobs worldwide. Sources say that the bank is negotiating the sale of its operations in Brazil with Bradesco, Itaú and Santander, and Bradesco would be able to pay in cash.
In Brazil, HSBC is the seventh largest bank in assets, according to data of bank balance sheets. Even if Bradesco was able to complete the deal it would have R$1.18 trillion in assets, still less than the R$1.3 trillion of Itaú. The Bank of Brazil is the country's largest bank, with R$1.54 trillion.
HSBC Bank Brasil's head office is in Curitiba, Parana, but the bank is present in 545 municipalities, with 866 branches, 399 banking service centers, 2,505 electronic service points and over 5,200 ATMs.
The Swiss HSBC has been under investigation since February. Known as Swissleaks, the investigation revealed documents provided by Hervé Falciani, a former HSBC banker in Geneva, to the French daily Le Monde.
In a statement, the bank said that neither the institution nor its employees are suspected of any crime. HSBC apologized to customers and investors for the failures of the past in the Swiss operations and said it has reviewed its procedures.