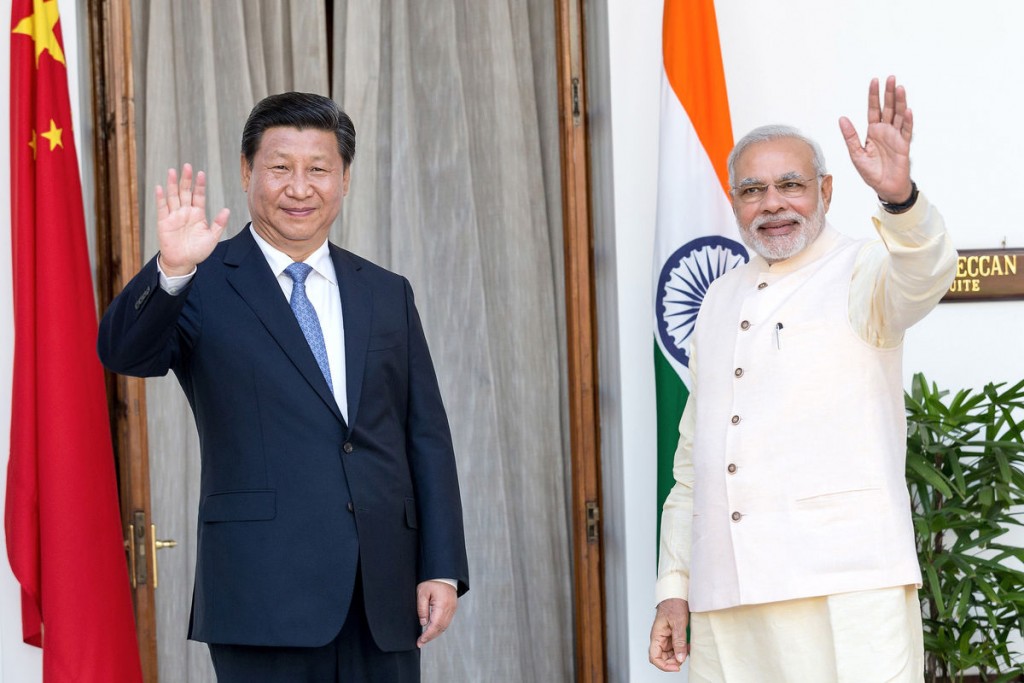 New Delhi: September, usually a crowded month in the US government's calendar for hosting foreign dignitaries, was busier this year. The presence of the leaders of both India and China at around the same time lent the season the added dimension of business deals, as they bought planes, wooed business leaders to invest in their large Asian economies and promised business-friendly environments to operate in.
Chinese President Xi Jinping arrived first, on 22 September, followed by Indian Prime Minister Narendra Modi two days later. Both received wall-to-wall coverage in the media at home. But in the US, Xi seemed to have done better than Modi with a couple of front-page mentions while Modi's visit was largely confined to the inside pages of American newspapers.
September is when the UN holds its general assembly session and foreign dignitaries jostle for attention.
This year, Xi and Modi competed for media attention not just with other global leaders but also with Pope Francis, the head of the Catholic church who began a six-day visit on 22 September.
This was Xi's first state visit to the US, marked by a lavish state dinner hosted by US President Barack Obama at the White House.
Modi's second US trip, in contrast, was a whirlwind affair. He met Obama in New York on Monday for talks.
India and the US are hoping to increase bilateral trade to $500 billion in the next few years from the current $120 billion. China's bilateral trade with the US is already around the $500 billion mark.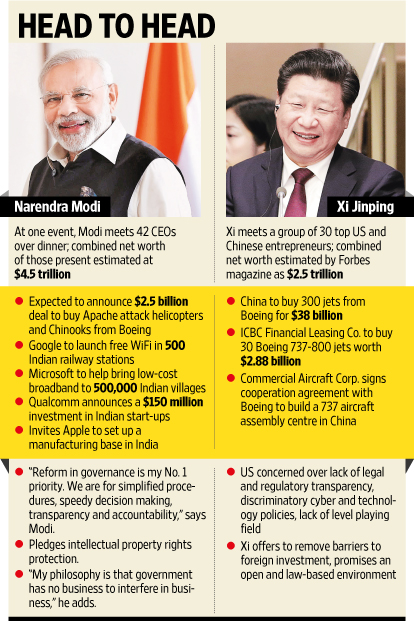 Meetings with CEOs
While Xi began his week-long visit in Seattle addressing a gathering of 650 business executives, Modi chose New York to kick off his five-day visit, addressing two round tables—one of financial investors and another with representatives of media and communication companies including Comcast, Time Warner, Discovery, Sony, ESPN, News Corp., 21st Century Fox, Disney and the ABC television group.
He then flew to California to meet key business leaders in the US technology business.
If Xi managed the distinction of being surrounded by 30 top US and Chinese entrepreneurs whose combined worth was estimated by Forbes magazine to be $2.5 trillion, Modi secured a dinner meeting with a group of 42 CEOs from Fortune 500 companies whose combined net worth was estimated by the Indian foreign ministry spokesman at $ 4.5 trillion.
Xi met Amazon.com Inc. founder Jeff Bezos, billionaire investor Warren Buffett, Microsoft Corp. CEO Satya Nadella, Apple Inc.'s Tim Cook, International Business Machines Corp.'s chairman and CEO Ginni Rometty, Lisa Su, CEO of chipmaker Advanced Micro Devices Inc., Cisco Systems Inc.'s executive chairman John Chambers and Facebook Inc. CEO Mark Zuckerberg.
The list of CEOs who met Modi was equally impressive—Rupert Murdoch, chairman of News Corp.; Ajay Banga, president and CEO of MasterCard Inc., who also chairs the US-India Business Council; Marilyn A. Hewson, chairman, president and CEO of Lockheed Martin Corp.; Citigroup Inc. chairman Michael O'Neill; Boeing International president Marc Allen, and Goldman Sachs president Gary Cohn.
In California, Modi separately met with Apple's Cook, Tesla Motors Inc.'s CEO Elon Musk and Facebook's Zuckerberg.
Interestingly, one person who did not figure in list of CEOs Xi met was Google's Sundar Pichai. His absence, The Times of India speculated , was due to Google's contentious history in China—the search engine is banned in the country.
In contrast, Pichai was one of the business stars to attend Modi's dinner, alongside Nadella; Shantanu Narayen, president and CEO of Adobe Systems Inc.; and Venk Shukla, president and trustee of Silicon Valley at The Indus Entrepreneurs, a group representing tech entrepreneurs.
Deals wrapped up
Xi announced a $38 billion deal for 300 jets from Boeing, according to a Reuters report. Separately, China's ICBC Financial Leasing Co., a unit of the Industrial and Commercial Bank of China, confirmed it would buy 30 Boeing 737-800 jets, worth $2.88 billion. China's state-owned Commercial Aircraft Corp. also signed a cooperation agreement with Boeing to build a 737 aircraft assembly centre in China.
And just before Xi's visit, personal computer maker Dell Inc. announced plans to invest $125 billion in China over the next five years.
In the case of India, Modi is expected to announce a decision by the government to buy 22 Apache attack helicopters and 15 Chinooks for $ 2.5 billion from Boeing. The deal was cleared by the Indian cabinet last week ahead of Modi's visit.
Modi also won support for his Digital India initiative from Silicon Valley firms like Google, which confirmed plans to launch free WiFi in 500 Indian railway stations, and Microsoft, which pledged to bring low-cost broadband to 500,000 Indian villages. Paul Jacobs, executive chairman of Qualcomm Inc., announced a $150 million investment in Indian start-ups.
On his part. Modi invited Apple to set up a manufacturing base in India. If this happens, it will help boost Modi's Make in India programme that aims to make India a manufacturing hub.
Assurances to industry
With the two countries looking to attract US technology and capital, both Xi and Modi reassured US businesses on the ease of doing business.
Xi said his country would work to remove barriers to foreign investment and improve intellectual property protections. Cyber crime—mainly hacking and cyber theft—is another area of concern for US companies operating or looking to operate in China. Xi said a key part of China's reforms would be to cut the current "negative list" of industries in which foreigners could not invest. He added: "Our positive list will be bigger, a longer list. We will continue to build an open and law-based environment." according to a Reuters report.
Chinese regulators issued a negative list of prohibited and restricted industries for foreign investors in March, ignoring complaints from business lobbies that the government has been reluctant to cede too much control over sectors it deems central to national interests.
US investors would also like a bilateral investment treaty that would give them increased access to state-dominated industries such as telecommunications and financial services. US secretary of commerce Penny Pritzker said US companies had "serious concerns about an overall lack of legal and regulatory transparency, inconsistent protection of intellectual property, discriminatory cyber and technology policies, and more generally the lack of a level playing field across a range of sectors", according to a Wall Street Journal report.
In the case of India, the US complaint has been the slow pace of implementation of economic reforms. Modi on his part said: "Reform in governance is my No. 1 priority. We are for simplified procedures, speedy decision making, transparency and accountability." He also pledged protection of intellectual property rights.
Sadanand Dhume, resident fellow at the Washington-based American Enterprise Institute think-tank, was of the view that at a "bilateral level, India-US economic relations are flourishing", with US officials viewing Modi "as a leader willing to engage with the US with a new level of intensity and purpose".
But, he added, there has been a shift in the way US businesses view Modi in the 16 months he has been in office. "The picture is much more mixed than it was a year ago. Then, US business leaders viewed Modi as an unabashed reformer. Now doubts have begun to creep in. People still respect Modi's record in Gujarat and want this government to succeed, but as reforms stall, the Prime Minister has lost some of his immediate post-election sheen," he said.
According to Dhume, though India is an important market, "most people don't buy the idea that it's a replacement for China. India simply doesn't have the size to merit such a comparison. That said, China's slowdown is an opportunity for India to market itself as the world's fastest growing major economy".