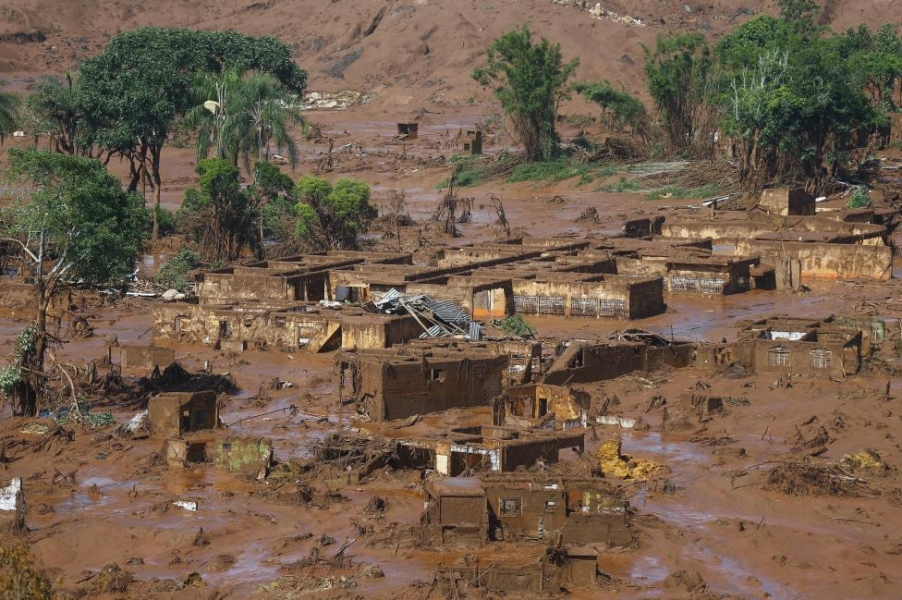 Officials in Brazil admit that hope of finding more of the missing 26 people alive in the area where two dams broke last Thursday, is fading. Authorities reports say that three people have died due to the incident, as rescuers worked throughout the weekend to find more survivors in the state of Minas Gerais.
Those whose homes were flooded with the water and mud from the dams were allowed to go back to their houses for a brief period of time on Sunday to gather their belongings, while tractors tried to remove the mud from roads and fields.
Officials now are worried about the course of the mud river which engulfed a rural area between the historic cities of Ouro Preto and Mariana in Minas Gerais. The river of mud is making its way along riverbeds and is expected to arrive in the state of Espirito Santos on Monday, according to the Brazilian Geological Service.
The dams, constructed by mining company Samarco, broke Thursday, dumping more than 62 million cubic meters of mining residues along the municipality of Bento Rodrigues. Samarco officials say that the mud formed as the water came through the fields and towns is not toxic, and basically composed of water and silica.
Environmentalists, however, say it is still too early to state that the residues, now mixed in the mud, do not offer a threat to the population's health. Even if the water is not toxic, they say, there will be extensive environmental damage to the area's vegetation and the riverbanks as the mud spreads.
Over the weekend officials from Brazil's Vale and Australia's BHP Billiton released statements expressing concern for the victims and vowing to do anything they can to mitigate the effects of the accident on the local population.
"We would like to express our solidarity to all those affected by the accident of the residue dams of Samarco in Minas Gerais," stated Vale President, Murilo Ferreira, last Friday. "We will do everything in our power to offer all the support necessary to Samarco and authorities."
"Our thoughts are with the people of Samarco, the affected community and with the people of Brazil," said BHP Billiton Chairman, Jac Nasser.
BHP Billiton's Chief Executive Officer, Andrew Mackenzie, is expected to go to Brazil this week to visit the accident site. According to company officials, BHP Billiton has "offered its full support to help the immediate rescue efforts and to assist with the investigation". The Australian mining giant also announced that a revision of its iron ore production forecast for the 2016 fiscal year would be undertaken due to the accident.
Samarco officials announced that operations in its Germano Unit, where the two dams gave way have been halted for an undetermined amount of time. The mine produced 29 million tons of iron ore in 2014.