JEDDAH: Members of the six-nation Gulf Cooperation Council (GCC) and India discussed closer economic ties at the two-day 4th GCC-India Industrial Forum at the King Abdullah Economic City in Rabigh on Wednesday, including a free trade zone and partnerships in information technology, health care, energy and agriculture.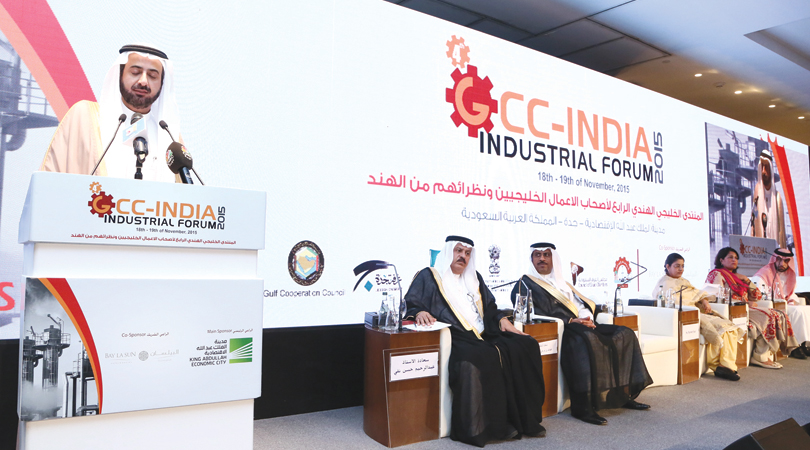 Speaking at the opening session, Saudi Arabia's Commerce and Industry Minister Tawfiq Al-Rabiah highlighted the deep-rooted relationship between the GCC countries and India. "Our ties are based on trust, friendship, mutual interests and cultural and trade exchanges," he said. "India has had a close connection with Arab and Islamic culture."
He said the volume of trade between the GCC states — consisting of Saudi Arabia, the United Arab Emirates, Kuwait, Bahrain, Oman and Qatar — and India rose to $150 billion in 2014, with GCC exports to India at $95 billion and GCC imports from India about $55 billion.
Al-Rabiah said trade between Saudi Arabia and India in 2014 stood at about $40 billion, with Saudi exports to India at over $33 billion, and its imports from India at nearly $7 billion.
He called for more high-level visits between India and the GCC countries, with special attention on the transfer of technology, increase in exports, better exchange of information, and the holding of exhibitions, symposia, conferences and workshops.
A Saudi businessman told Arab News privately that the forum would have had a greater impact if India's Minister of State for Commerce and Industry Nirmala Sitharaman had attended as scheduled.
"That would have made a huge impact," he said. "Her presence would have added weight to the Indian side and provided the Saudis and GCC leaders with a direct interface with the Indian government."
Abdulrahim Hasan Naqi, secretary-general of the Federation of GCC Chambers of Commerce and Industry, said the gathering should be used to launch new ideas and investment opportunities that would benefit both parties.
Raihan Mubarak Fayez, director general of the technical secretariat of the GCC states and head of the economic affairs sector, said rapid political and security developments necessitated closer ties between the two sides.
He said this should include fulfilling a GCC summit resolution to sign a free trade agreement with India where goods could enter respective markets without onerous restrictions and heavy tariffs.
Ravneet Kaur, joint secretary at the Indian government's Department of Industrial Policy and Promotion (DIPP), said her country was a major trade partner of the GCC countries, citing the presence of a huge number of Indian workers in the GCC states for more than 40 years, a reference to the presence of more than 5 million Indian expatriates in the region.
She said India was currently working with its GCC partners to forge partnerships in the fields of energy security and infrastructure development. She said India was the world's second fast-growing economy, has benefits arising from major tax reforms and market liberalization and privatization initiatives.
She added that India also has the world's fast-growing telecommunications market, is the leading gold and jewelry consumer, the planet's biggest sugar refining operator, second-most populated country, and among the largest consumer societies worldwide.
Prominent Indians at the forum were Shobana Kamineni, vice president, Confederation of Indian Industry (CII) and executive vice chairperson, Apollo Hospitals Enterprise Limited (AHEL); Piruz Khambatta, chairman, Rasna Pvt. Ltd. and head of the National Committee on Food Processing at the CII; two joint secretaries, including Manoj Kumar; Indian Consul General B.S. Mubarak and Charge d'Affaires Hemant Kotalwar.
A number of Saudi businessmen, including Adel A. Shakoor, president, XS Conferences and Exhibitions, Harith Y. Al-Faddagh, CEO, Dar Al Salam, and Mohammed Batterjee, business development manager at Batterjee Holding Company, attended the plenary and parallel sessions.
"We had good discussions and there was a realization on both sides that we need to have value-added investments," Taha A. Alshareef, GM, Foreign Trade, Ministry of Commerce and Industry, told Arab News.
"The two sides highlighted the business-friendly regulations in their countries and how the presence of a very young population can contribute to growth," said Mubarak. "During a bilateral meeting with Saudi Arabia, there was a particular stress on free-trade agreements."
Haridas Pantheeradi, director-Gulf, Middle East & North Africa, CII, said the forum specifically explored areas of cooperation between India and the GCC countries in areas such as information technology, health care, oil, gas and renewable energy, food security and manufacturing industries.