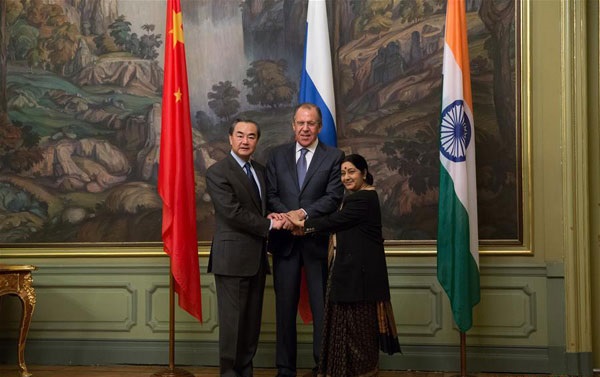 On Monday, the foreign ministers of Russia, India, and China (RIC) met for a trilateral meeting in Moscow to discuss international and regional issues. The RIC trilateral has met annually since 2002 and partly led to the expansion of the trilateral to eventually incorporate Brazil and South Africa as the BRICS—a grouping comprising five of the world's largest emerging economies. In recent years, the RIC has functioned as a complement to other frameworks involving Russia, India, and China, including the Shanghai Cooperation Organization.
"During the meeting, the ministers will thoroughly look into global and regional issues, issues of strengthening international law and collective fight with common challenges. Special attention will be devoted to the situation in the Middle East and North Africa, including Syria, Iraq, Libya, the Middle Eastern peace process, the situation in Afghanistan and the settlement of the Ukrainian crisis," the Russian foreign ministry noted in a statement.
The three delegations to the trilateral meeting this year were led by Russian Foreign Minister Sergey Lavrov, Indian External Affairs Minister Sushma Swaraj, and Chinese Foreign Minister Wang Yi. According to the Chinese foreign ministry, the trilateral addressed "issues of common interest." As I've discussed before in The Diplomat, one of the areas where the trilateral has spent considerable attention is the issue of peace in Afghanistan following the withdrawal of U.S. and NATO forces. This year's meeting will focus on reinvigorating the BRICS and increasing cooperation through that framework.
Swaraj's participation in the RIC trilateral coincides with Indian Defense Minister Manohar Parrikar's five-day visit to China, where he will meet with Chinese officials on defense issues and address tensions along the disputed India-China border. Though the RIC meetings focus on exchange views between the three countries on larger issues, the trilateral is limited by the proximity of the bilateral relationships contained within it.
For example, Swaraj, at a bilateral meeting with her Chinese counterpart on the RIC trilateral's sidelines in Moscow, reportedly raised the issue of China's recent decision to block an India-initiated procedural move at the United Nations to add Masood Azhar, the leader of the terrorist group Jaish-e-Mohammed, to the list of banned persons pursuant to UN Security Council resolution 1267. Swaraj's decision to raise the issue echoed Indian Prime Minister Narendra Modi similarly voicing his concerns to Chinese President Xi Jinping during last year's BRICS Summit in Ufa, Russia, regarding China's decision to block a similar procedural move regarding Zaki-ur-Rehman Lakhi.