The landscape of Latin American exports to China has been predictable for a number of years. Iron ore from Brazil, oil from Venezuela, copper from Chile and Peru, soybeans from Argentina and far more on top of that.
From 2000 to 2013, trade between Latin America and China grew at an average of 27 percent a year. In comparison, trade between the region and the rest of the world grew only 9 percent a year in the same time frame.
This growth was only natural, giving governments across Latin America plenty of ready cash for major infrastructure and social programs. However, it also exposed Latin American economies to structural weaknesses which were laid bare in 2015.
Oil, copper, iron ore and soybeans make up 80 percent of the region's exports to China, which took in 40 percent of the global soybean production, 20 percent of copper and a third of all iron ore. This bred complacency and dependence, and flew in the face of the World Bank's advice, which had preached diversification of exports.
A perfect storm in 2015 showed how costly this lack of diversification could be. The commodities super-cycle came to a juddering halt in 2014. Oil prices fell from $105 a barrel to under $50. Copper steadily slid to reach a six-year low in November 2015. Iron ore prices have collapsed from $187.18 a ton in February 2011 to just $52.74 in October 2015.
And finally, China has been shifting its economy to one of domestic consumption rather than constant manufacturing.
Faced with dropping incomes, Latin American countries have turned to another source of exports: agriculture. After all, soybeans were already in the basket of major exports to China and actually surpassed iron ore to become the largest single export. Soybeans are now Brazil, Argentina and Uruguay's top export to China.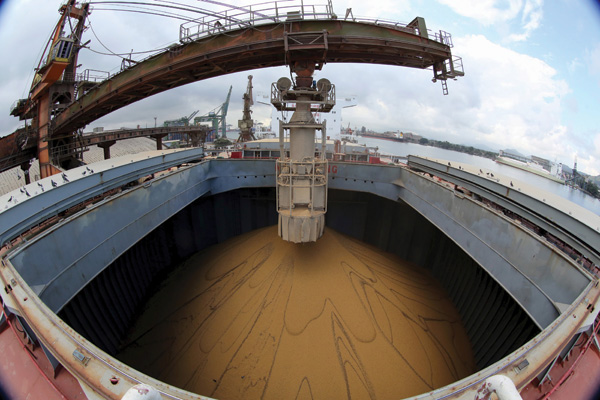 Global economics show the importance food security is taking on. The slowdown of China's economy will not affect its food imports, which are actually predicted to double by 2050. One of the major accomplishments of the Communist Party of China in recent decades has been its hunger eradication campaign. In order to consolidate this as the country's middle class grows, ensuring food security is a must.
This will be a boon to Latin American farmers but it should not be thought that China will soak up all that the region can produce. The reason that soybeans are the sole agricultural export to China at the moment is due to the country's massive demand for grains and oil seeds.
In 2012, according to Guo Jiahua, deputy general manager at Dongling, a rising urban population and a net loss of tillable land means that China has seen higher demand and less supply of cooking oil, hence the imports. The Chinese government has put incentives in place for agriculturalists to grow corn, creating another need for more soybean imports.
This urge for produce such as soybeans coincides with a relatively smaller demand for products such as coffee, sugar or fruit in China, which have not seen the same rise in exports from Latin America in recent years. Seafood has been a perennial favorite in China, allowing Peru to benefit, but others like Chile are late to that game.
Less agriculturally diverse Latin American countries may struggle to replace raw materials with agricultural produce. Luckily for them, governments like Brazil and Argentina have spent 2015 actively trying to change the taste buds of Chinese consumers.
In February, Brazil acted to shore up agricultural exports. Brazilian Agriculture Minister Katia Abreu launched a campaign for China to buy more coffee and meat. The latter has been growing rapidly in recent years, with China set to buy $700 million of beef, pork and chicken from Brazil in 2015 as opposed to just $37 million in 2012. This change was mostly motivated by China lifting its embargo on Brazilian beef in May 2015 after an outbreak of mad cow disease in 2012. In November, Abreu visited Beijing, with beef the main topic on her agenda.
Argentina is now looking to open up opportunities in China for its dairy, wine, meat and fruit produce. "The demand is there. Because food is key to Argentina's economy, we are focusing on these areas," Julio Ferrari Freyre, Argentina's consul general in Guangzhou, told China Daily. Furthermore, Freyre said that Chinese companies were in negotiations to open plants in Argentina itself to process cooking oil, dairy products, fruit, vegetables and beef.
Then Chile got in the act. Led by former president Eduardo Frei, a delegation of Chilean entrepreneurs and diplomats toured large Chinese cities in August. While it also included meetings on industry and mining, the trip was largely designed to entice Chinese companies and consumers to buy Chilean goods. Chinese supermarkets laid out special stalls showcasing Chilean products, ranging from grapes and wine to fish and olive oil.
With the end of the commodities super cycle, it is encouraging to see that the Latin American economies have not chosen to wait for prices to pick up but have been proactive in finding alternatives.