RIO DE JANEIRO, BRAZIL – Despite an increase in robberies and shootings in Rio de Janeiro, the Military Police had to cut the number of policemen allowed to do extra hours reinforcing their colleagues in patrolling the streets by May 4th. Affected will be, among others, the battalions in Olaria, responsible for Alemão and Penha, Tijuca and Niterói.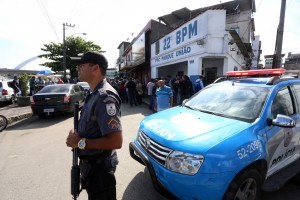 The Military Police in Rio de Janeiro allows its servicemen and women to work a certain amount of voluntary extra hours within the so-called Regime Adicional de Serviço (RAS, Additional Service Regime) in order to strengthen the police presence in the city's streets.
However, the number of reinforcements had to be cut by around sixty percent from 1,550 to 620 military policemen and women on May 4th, due to what many think were budget constraints in the state of Rio de Janeiro.
Affected are battalions, such as the 16º BPM in Olaria, responsible for patrolling in Complexo do Alemão and Complexo da Penha, where robberies in residences have increased by twenty percent and robberies in commercial establishments by 28 percent in the first trimester of 2015 compared to the same period in 2014.
In Tijuca, car theft has risen by sixteen percent, while robberies in buses have increased by eighteen percent. Nevertheless, all agents on extra service have been cut in the region. In Jacarepaguá the number of reinforcement police has been cut from 54 to just ten, even though crime numbers in the region are on the rise as well.
However, according to the Military Police Command the reduction of servicemen and women will not affect security in the city, as it was mainly a cut of not-filled vacancies of the voluntary service. "The policing is being redistributed to be more effective and to be of more quality. The reductions were made only in the voluntary RAS," an official statement reads.
On the other hand, policing in Centro will be reinforced and restructured after a wave of incidents. Around Avenida Rio Branco, 28 policemen and women will circulate on foot, while another six troops are stationed with their vehicles, totaling in 52 police present. Police on horses and on bicycles are planned as well.