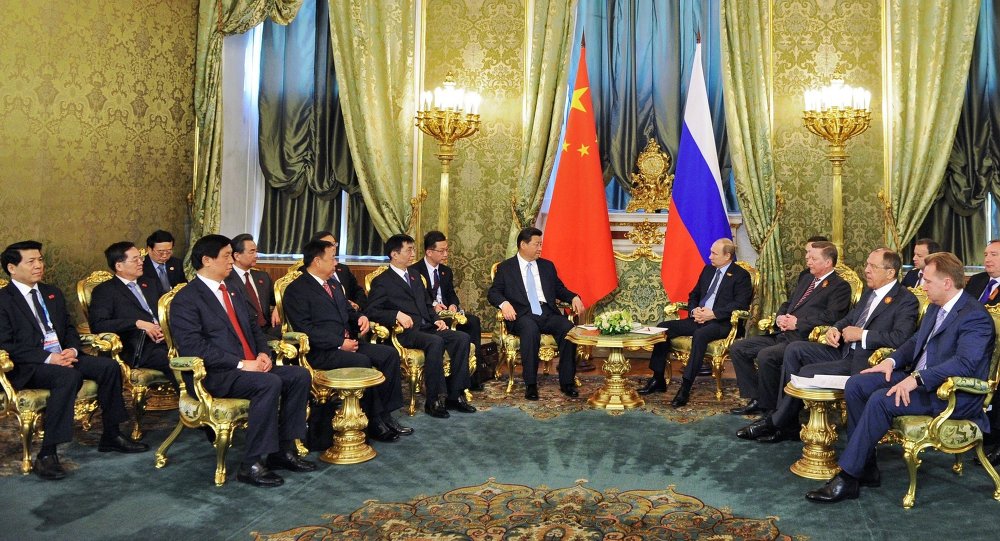 In a joint statement by Russian President Vladimir Putin and President of the People's Republic of China Xi Jinping, the two leaders pledged to set up mechanisms for the integration of the EEU and the Silk Road Economic Belt.
"The integration of the Eurasian Economic Union and Silk Road projects means reaching a new level of partnership and actually implies a common economic space on the continent," Vladimir Putin highlighted after the summit with Chinese leader Xi Jinping.
Alexander Gabuev, a senior associate and the chair of the Russia in the Asia-Pacific Program at the Carnegie Moscow Center, admitted that the Western skepticism regarding Sino-Russian cooperation in Central Asia and beyond has proven groundless.
"Moscow and Beijing declared a goal to coordinate the two projects in order to build a "common economic space" in Eurasia, including a Free Trade Agreement between the EEU and China. Though still equivocal in language, the document signifies major departure from the previous collision course," the expert wrote in his article published by The Diplomat.
Gabuev elaborated that the plan is based on a formula of "a division of labor between Moscow and Beijing in Central Asia." While Beijing "with its deep pockets" will become the major economic "driver" in the region, Moscow will play the role of "the dominant hard security provider" via its Collective Security Treaty Organization.
According to the expert if Moscow and Beijing continue to develop this course, "the change will be significant" and China will become, "with Russia's support," a truly "Eurasian power."
Commenting on the initiative, deputy director of the Far East Institute of the Russian Academy of Sciences Sergey Luzyanin stressed that the new Sino-Russian plan will "establish a common and integrated space in Eurasia" resulting in the creation of a "Eurasian heartland," Xinhua reported.
The scholar underscored that the core of the bilateral project is "infrastructure", which includes the modernization and construction of highways and railroads as well as cooperation in raw material production, metallurgy and the oil and gas industry.
At the same time "the docking project could help combine capital coming from China, Russia and other countries and thus support the Russian-Kazakh Eurasian Bank, foster the SCO development bank and reinforce the Asian Infrastructure Investment Bank," Luzyanin emphasized.
Mr. Luzyanin stressed that the integration of the EEU and the Silk Road Economic Belt would be undoubtedly a mutually beneficial project that will boost the development of the Eurasian heartland, triggering "the real free flow" of goods, services and labor within the continent.
"Russia and China are working together to build a new peaceful heartland and center of Eurasia, which could become a promising global economic center just like the Asia-Pacific region," Luzyanin concluded.