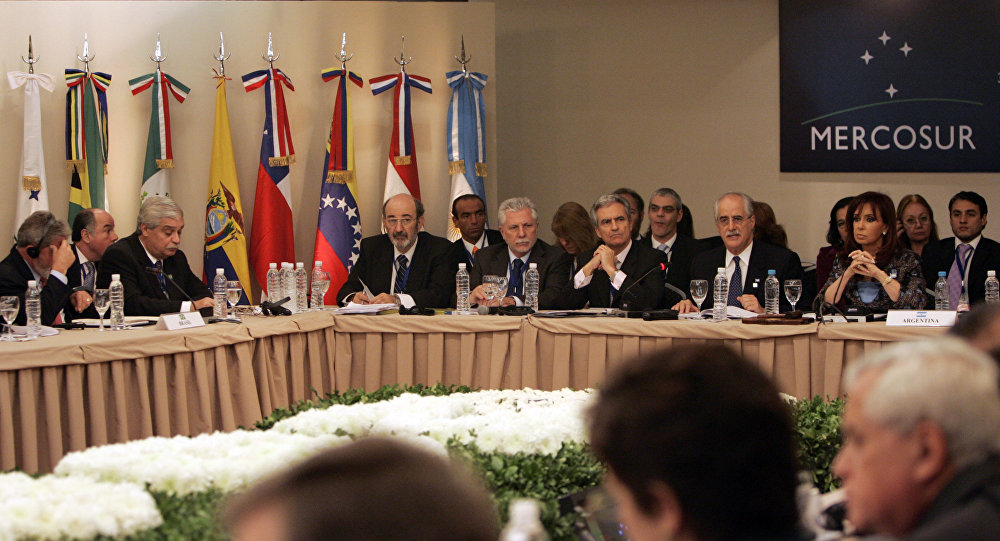 Russia expects the Eurasian Economic Union and Mercosur to ink an agreement on cooperation next year.
MOSCOW (Sputnik) — Russia is expecting a cooperation agreement to be signed between the Eurasian Economic Union (EEU) and Mercosur, the South American regional bloc, in 2016, the head of Russian Foreign Ministry's Department for Latin America, Alexander Shchetinin, said Tuesday.
"At the moment, the partners from Mercosur are looking into a protocol on trade and economic cooperation between the Eurasian Economic Commission, which represents the EEU countries, and Mercosur member states. Our coordinated position of all the EEU members has been passed on to the South American partners, and we are counting on reaching an agreement next year," Shchetinin told RIA Novosti.
The pending agreement will become the first to document the EEU's cooperation with an economic bloc outside Eurasia, the diplomat added.
Russian President Vladimir Putin has previously remarked on the importance of the Eurasian Economic Commission (EEC) and Mercosur cooperation, announcing late April, during a meeting with then Argentine President Cristina Fernandez de Kirshener, that a cooperation memorandum with Argentina was nearing completion.
The EEC has already signed cooperation memorandums with Peru and Chile, according to Shchetinin.
Mercosur is South America's leading trading bloc. Comprising Argentina, Brazil, Paraguay, Uruguay and Venezuela, Mercosur aims for the free movement of goods, capital, services and labor between its member states.
The EEU comprises Russia, Belarus, Kazakhstan, Armenia and Kyrgyzstan, united in a single market of 183 million people with a GDP of over $4 trillion.