New Delhi: The industry department will soon take a proposal to the cabinet to create a credit guarantee scheme of Rs.2,000 crore to encourage banks to lend to start-ups in India without collaterals, Department of Industrial Policy and Promotion (DIPP) secretary Ramesh Abhishek said on Friday.
Speaking at the India Economic Summit organized by the World Economic Forum, Abhishek said his department is also trying to fast-track the rather slow disbursement of funds through the fund of funds created for start-ups with a plan to put Rs.10,000 crore in four years. "Government gives this money to select alternative investment funds who in turn take equity in start-ups. So far only Rs.1,100 crore has been disbursed. Our aim is to mobilize Rs.50,000 crore of private investment through this fund," he added.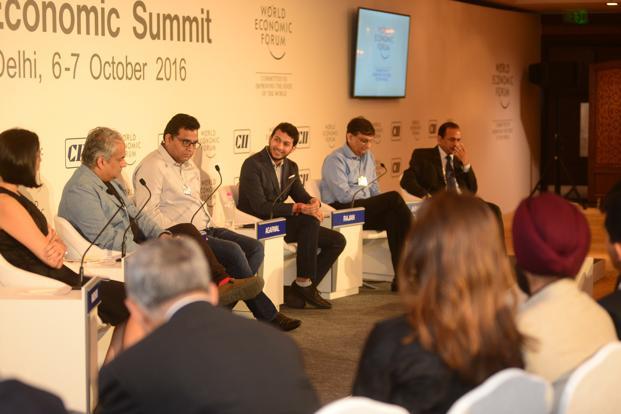 Abhishek said he has written to about 100 companies to use their corporate social responsibility fund to set up incubators to groom start-ups. "So far there are only 600 start-ups throughout the country. We are sensitizing states about start-up policy. We have requested five start-ups to share their start-up policy with others," he said.
Ritesh Agarwal, founder and chief executive officer of Oyo Rooms, said most of the laws were written in a different era which is why they don't fit in this era of disruptive start-ups. "It is our responsibility as entrepreneurs to proactively go out and converse with the lawmakers and explain to them what the problems are," he added.
Abhishek said the broader approach of the government towards start-ups is: "If you can't help them don't choke them." Abhishek said the government is talking to local authorities and through the e-commerce committee set up under Niti Aayog chief executive officer Amitabh Kant looking into routine issues faced by start-ups and how to address them.
To facilitate start-ups to take part in government procurements, Abhishek said every government department has been asked to share its procurement needs on the start-up India portal. "We have already done away with the prior experience requirement to take part in government procurement bids," Abhishek said.
Mahesh Murthy, managing partner of Seedfund, said so far Indian entrepreneurs, including start-ups, have only tried to mimic a cheaper version of successful Western businesses. "Only now they are beginning to have original thoughts in this generation. It is culturally very difficult for us to be innovative," he said, speaking at the session on start-ups.
However, Vijay Shekhar Sharma, founder and chief executive officer of Paytm said Indian entrepreneurs should not give up on newer incremental categories of innovation. "Japanese built Honda, Toyota, Nissan when Germans and Americas had built their largest auto companies. We have to build products, built in India, made in India, made for India in Indian context. The world needs lower cost, higher scalable built out of countries like India," he said.