New Delhi: It has become more difficult for Indian businesses to access credit and pay taxes, but it is much easier to start a business, according to World Bank's Doing Business Report 2016.
India improved its performance on three parameters—starting a business, getting construction permits and accessing electricity—in the World Bank Ease of Doing Business Index, but saw its performance deteriorate with regard to two parameters—accessing credit and paying taxes.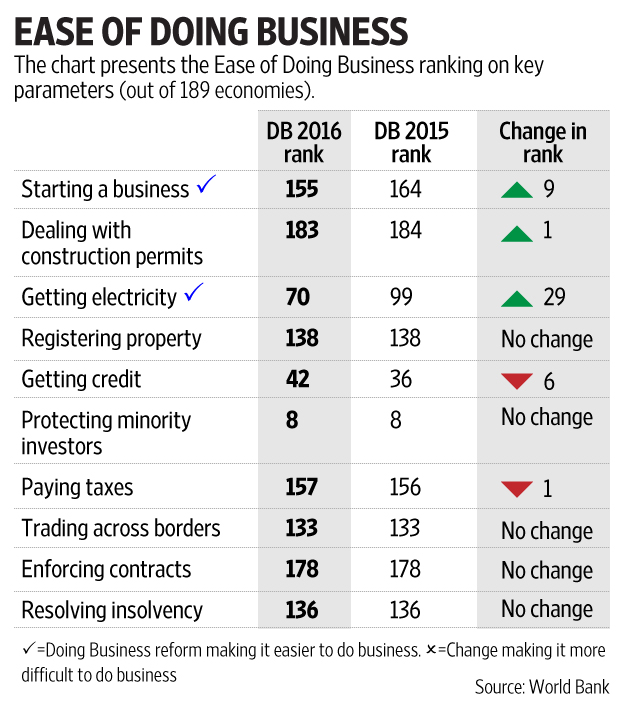 India moved up nine spots in the criteria of starting a business to 155 in 2016 from 164 last year.
India also registered a substantial improvement in providing electricity to businesses, moving up 29 spots to 70.
Its ranking for dealing with construction permits also moved up one spot to 183.
However, India slipped six spots in the parameter of accessing credit to 42, implying that it has become much more difficult to get credit in India.
It also slipped one spot in the criteria of ease of paying taxes.
In other areas such as protecting minority investors, registering property, trading across borders, enforcing contracts and resolving insolvency, the rankings for India remained the same as last year.
However, in the area of protecting minority interests of shareholders, India is ranked at eight, its best ranking across all parameters.
The Indian government is looking at ways to resolving insolvency issues and enforcing contracts through legislations like the bankruptcy law and public contracts dispute resolution bill—criterions where it is faring badly in the Ease of Doing Business rankings. India is ranked 178 in the parameter of enforcing contracts and 136 on the parameter of resolving insolvency.
In the World Bank report released late on Tuesday, India saw its overall rankings improve by four spots to 130 from 134 last year. The rankings for both the years are part of a revised methodology adopted by the bank.
"In the past year, India eliminated the paid-in minimum capital requirement and streamlined the process for starting a business. More reforms are ongoing—in starting a business and other areas measured by Doing Business—though the full effects are yet to be felt," the World Bank has said.