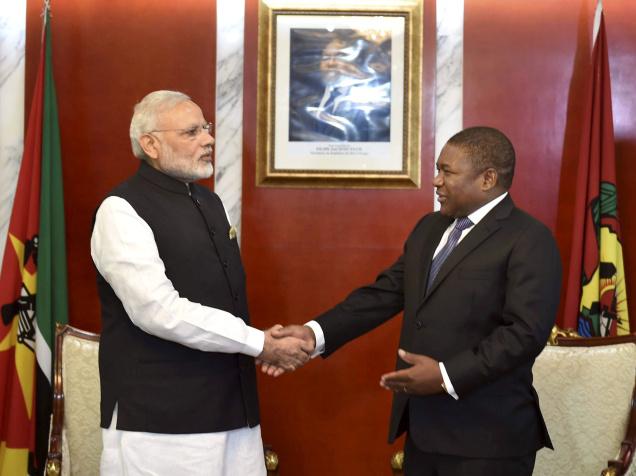 New Delhi: Hailing Mozambique as a gateway for Indian investment into Africa, Prime Minister Narendra Modi on Thursday offered to strengthen cooperation with the African state in areas ranging from agriculture, skill development and healthcare to defence.
In his remarks to journalists after talks with Mozambican President Filipe Nyusi in the capital Maputo, Modi said the two countries were also stepping up their partnership in food security, with India signing a long-term pact for the purchase of pulses from Mozambique.
"In Mozambique's march towards economic prosperity, India will walk every step of the way. We will be a trusted friend in your development," he said.
Given the terrorist attacks across a large swathe of the world from Saudi Arabia to Bangladesh, Modi said he and Nyusi had agreed that terrorism is the "gravest threat" to the world and spoke about bolstering security and defence ties.
Maputo is Modi's first stop in a five-day, four-nation tour of eastern and southern Africa that will also see him visit South Africa, Kenya and Tanzania.
Modi's visit follows India hosting the third India-Africa Summit in New Delhi in October.
The trip also comes after visits by President Pranab Mukherjee to Ghana, Ivory Coast and Namibia last month and vice-president Hamid Ansari to Morocco and Tunisia in May-June.
The visits aim to bolster and sustain ties between India and energy- and resource-rich Africa given that the next India-Africa Summit will be held in 2020.
"Taken together with the five countries visited by the vice-president and president recently, the four countries on the PM's itinerary would help Indian diplomacy enhance its outreach to a vital part of Africa," said Rajiv Bhatia, former high commissioner to South Africa, Lesotho and Kenya, and currently a fellow in the foreign policy studies programme of Mumbai-ba-sed think tank Gateway House.
"The package of visits by the top three Indian leaders within a short span of six weeks puts to rest earlier criticism of India's visibility deficit in Africa," said Bhatia in comments posted on the think tank's website.
In his comments to reporters, Modi invoked India's old ties with Africa, rooted in "shared struggles and suffering under colonial oppression" that brought the two together.
Ties that would take India and Mozambique into the future would rest on agriculture, healthcare, energy security, collaboration in natural resources, skill development and institution-building besides security, Modi said.
"In fact, Mozambique has already been one of the gateways for Indian investments into Africa. About one-fourth of all Indian investments in Africa are in Mozambique… We are confident that under the leadership of President Nyusi, Indian investments will continue to receive a nurturing environment in Mozambique," he said.
Underlining the complementarity in the relationship, Modi said that Nyusi had highlighted agricultural development as his top priority. "Our experts have since held discussions on how we can work together to improve agricultural infrastructure and productivity in Mozambique. Today, we agreed to put this cooperation on the fast track. We are also strengthening our partnership in food security. India's commitment to buy pulses from Mozambique would help meet India's requirement. It will also facilitate long-term investments in commercial farming, generate farm employment and raise farmers' incomes in this country," Modi said.
The external affairs ministry, in a post on its website, said that Indian investments in the energy sector in Mozambique amounted to $5.075 billion.
Indian companies with investments in Mozambique include Tata Steel, JSPL, JSW, Essar, Midwest Africa, Coal India Ltd and Sunflag Group in coal mining; Damodar Ferro in iron-ore mining; Essar in port development; and Pure Diets, Rajarambapu Group, HK Jalan Group and Asian Tea company in agriculture.
Healthcare was another area where India's capacities matched Mozambican needs, Modi said, adding: "India will be donating essential medicines for the Mozambican public health system, including medicines for treatment of Aids."
On terrorism, Modi said, "Terrorism impacts India and Mozambique equally. The networks of terror are inter-linked with other transnational crimes. Our agreement on prevention of drug trafficking is a testimony to our shared determination to combat this menace and these networks."
Another area where India and Mozambique shared similar views was security, Modi said, adding: "We will work together to support the Mozambican defence forces. By building capacities and institutions, training of personnel, supply of equipment, and in responding to their other emerging needs."