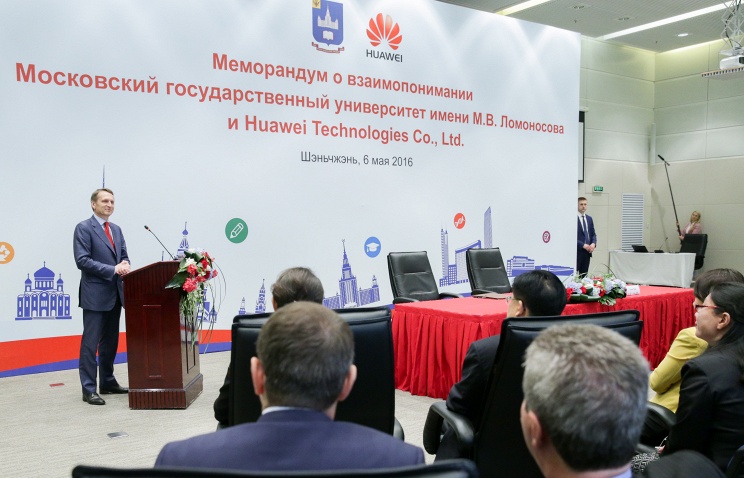 The joint promotion of IT-technologies will contribute to the deepening of cooperation between Russia and China, speaker of the Russian State Duma lower house of parliament Sergei Naryshkin said in Shenzhen on Friday at the ceremony of signing a memorandum on cooperation between Moscow State University (MSU) and Huawei Corporation.
"I have no doubt that the promotion of new IT-technologies based upon the younger generation's support and the educational sphere will help to promote interaction and cooperation between our two countries, since cooperation is aimed at the future prospects," Naryshkin said.
He expressed the hope that the signing of the memorandum between MSU and Huawei Corporation will promote the development of the joint Russian-Chinese University, the first stone in the foundation of the main building of which was laid by Naryshkin in Shenzhen on Friday.
The memorandum on joint research of MSU and Huawei was signed by Moscow State University Rector Viktor Sadovnichy and Huawei Enterprise authorized representative Yuan Qian. The parties agreed to cooperate in "the planning and implementation of MSU and Huawei workers' joint research and development programs."
The parties to the agreement are also expected to implement joint projects in the sphere of education and working out the modern information and communication framework development strategy. The signatories undertook to work on a strategy for creating high-performance computing platforms for MSU.
According to the memorandum, the Huawei company should provide a technical solution for organizing a dedicated access line for Chinese students to the educational portals of Moscow State University and the joint University of MSU and Beijing Institute of Technology (BIT) in Shenzhen.
The parties undertake to keep secret the information they will get in the course of activities they will conduct within the framework of the memorandum.
The memorandum was signed for a term of 5 years.