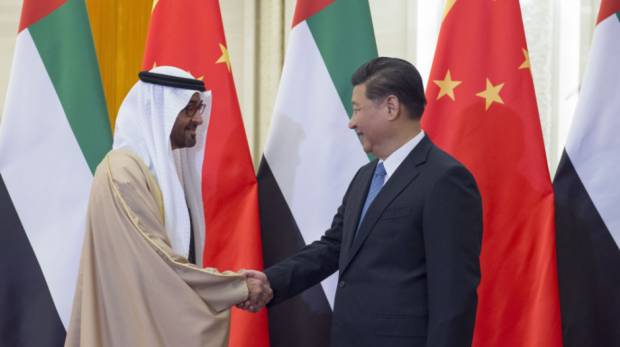 Trade relations between the UAE and China are seeing more growth and prosperity, as leaders of both the countries are paying utmost attention to enhancing economic cooperation and coordination, according to the Dubai Customs.
In this context, His Highness Sheikh Mohamed bin Zayed Al Nahyan, Crown Prince of Abu Dhabi and Deputy Supreme Commander of the UAE Armed Forces, is currently in Beijing on an official visit at the invitation of President Xi Jinping of China. The visit is aimed at creating new opportunities for the private sector and diversifying trade.
The UAE in general and Dubai in particular take on a vibrant role to keep the Chinese commodities flowing to the world. China was Dubai's top trading partner in 2014, with bilateral trade volume valued at Dh174.84 billion, reflecting a 29% growth rate over the previous year. Imports accounted for Dh167.64 billion, exports for Dh1.51 billion and re-exports for Dh5.69 billion.
Figures released by Dubai Customs show that in four years – from 2011 to 2014-  overall trade with China managed to cross half-a-trillion dirham threshold, hitting Dh527 billion. Notably, phones, PCs, satellite receivers, automobiles and aluminium topped the list of most traded commodities between Dubai and China.
Sultan Ahmed bin Sulayem, Chairman of DP World and Chairman of Ports, Customs and Free Zone Corporation (PCFC), said: "At PCFC, we attach great importance to sustaining the growth of Dubai-China trade in line with the directives of our wise leadership. This is particularly taken care of through delivering exceptional trade and customs services and facilitations to Chinese traders and investors, whether at ports or free zones. Dubai has become a major hub that links the Chinese market with Middle Eastern, European and African markets, and a vital platform for Chinese businesses to network with the emirate's business community and make new inroads into other marketplaces worldwide."
From his part, Ahmed Mahboob Musabih, Director of Dubai Customs, said: "Dubai Customs' efforts to reinforce economic and trade ties with China have resulted in remarkable growth figures in bilateral trade. We work towards achieving more commercial growth by strengthening cooperation and direct communication with Chinese officials, diplomatic corps and business communities based in Dubai.
"Integrated privileges and benefits are also in place to help Chinese traders and investors who are seeking added value from trading through Dubai and who desire to expand their market potential here. Our customs development plans are focused towards further building their capacities to make best use of Dubai's current stature as a fast-growing global trade hub."