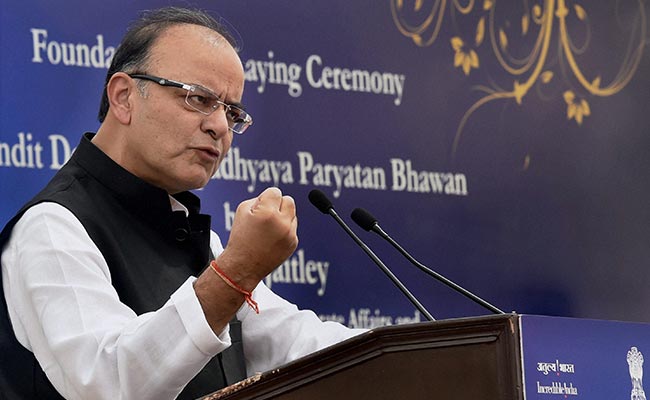 WASHINGTON: Seeking reforms in IMF and World Bank to reflect a larger say for economies like India, Finance Minister Arun Jaitley has said the share of developing and transition countries (DTCs) in the multi-lateral lending agencies IBRD and IFC must be raised to 50 per cent.
"I wish to reiterate that we must adhere to the Istanbul principles. We must accept that the time has come for raising partnership of DTCs in the IBRD and IFC to 50 per cent," he said at World Bank Development Committee meeting here.
This, he said, would require that economic weight captured by GDP must remain the primary factor in the formula, with larger share of PPP based GDP of not less than 60 per cent.
The World Bank through its arm International Bank for Reconstruction and Development (IBRD) and International Development Association (IDA) provides loans to middle income and poorest countries. Also through its arm the International Finance Corporation (IFC), it provides loans, equity as well as advisory services to private sector and governments of developing countries.
"IDA has enormously useful role in financing development in low income countries, but recognising IDA contributions in IBRD/IFC share capital has adverse impact on voting share of developing countries. Therefore, it would only be fair if a weight of not more than 10 per cent is given to IDA contributions in the dynamic formula," he said.
Such a weight should also recognise only recent contributions to act as a rightful incentive for the emerging countries to contribute in IDA and should also recognise multiplier based on burden share and generosity.
The Minister said while shareholding reforms have moved forward, the unfinished task of eliminating extreme poverty, achieving development ambitions enshrined in the Sustainable Development Goals (SDGs) and meeting the enormous challenge of reconstruction posed by conflicts and fragility calls for the Bank Group to expand its annual lending to USD 100 billion.
"For doing so, both IBRD and the IFC, would need General Capital Increase (GCI). These two institutions would also need large Selective Capital Increase (SCI) to reflect the increasing weight of Developing & Transition Countries (DTCs). These steps have to be taken in timely manner to maintain leadership position of World Bank Group in the development landscape," he said.
Jaitley also said IMF quotas even after recent reforms do not reflect global economic realities.
"It is necessary to complete the Quota Formula Review (QFR) quickly, so as to better reflect the increasing weight of emerging market and developing countries in the world economy," he said at the IMFC Plenary Session.