Fitch on Tuesday became the first global rating agency to lower its growth forecasts for India, citing the impact of demonetization of high-value bank notes on Asia's third largest economy.
Fitch cut its India gross domestic product (GDP) growth forecast for the current fiscal year to 6.9% from 7.4%, and lowered its 2017-18 projection to 7.7% from 8%.
The new forecasts came a day before the government releases GDP numbers for the second quarter (July-September) of fiscal 2016-17. India's economy grew 7.1% in the first quarter (April-June) of the fiscal, the slowest pace in six quarters.
The pace of growth had been expected to pick up in the remaining quarters on account of higher agricultural output following a normal monsoon and a push to urban consumption from a pay hike awarded to central government employees.
However, the government's decision on 8 November to scrap Rs500 and Rs1,000 notes has put its target of 8% economic growth this year at risk of being missed.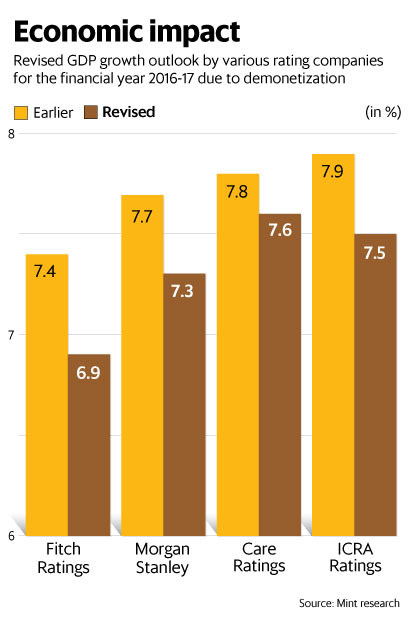 Fitch said the cash crunch caused by the decision to withdraw the notes that made up 86% of the value of currency in circulation will hurt economic activity.
"Due to the demonetization, Indian consumers have not had the cash needed to complete purchases, and there have been reports of supply chains being disrupted and farmers unable to buy seeds and fertilizer for the sowing season. Time spent queueing in banks is also likely to have affected general productivity. The impact on gross domestic product growth will increase the longer the disruption continues," it said.
Prime Minister Narendra Modi scrapped the high-value notes with effect from 9 November in a crackdown on the black economy, terror finance and counterfeit currency.
The government, the Reserve Bank of India (RBI) and banks have been struggling to replace the currency, especially in rural areas.
Fitch does not expect the medium-term effect of the currency withdrawal on GDP growth to be large.
In the absence of any new incentives for people to avoid cash transactions, the informal sector could go back to business as usual, Fitch said.
"Gradual implementation of the structural reform agenda is expected to contribute to higher growth, as will higher real disposable income, supported by an almost 24% hike in civil servants' wages. But the anticipated recovery in investment looks a bit less certain in light of ongoing weakness in the data," Fitch said.
"A surge in low-cost funding due to the demonetization may remove a constraint on banks that prevented lending rates from keeping pace with the RBI's policy rate cuts in recent years, although this will depend on deposits remaining in banks beyond the next few months," it added.
The downward revision does not come as a surprise. Morgan Stanley Research now expects the Indian economy to expand around 7.3% in 2016-17, down from its earlier forecast of 7.7%.
Local rating agency ICRA expects India's GDP to grow 7.5% in 2016-17, down from an earlier prediction of 7.9%.
Currency replacement "will affect domestic demand in view of: (a) disruption in cash transactions until the end of December, (b) anxiety from the government's focus on investigating transactions funded by "black money", which will potentially make households hold back spending on big-ticket items in the near term and property spending in the medium term", said Morgan Stanley Research in a note dated 27 November.