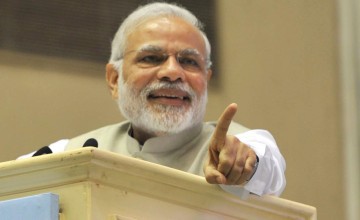 M K Razdan PTI
New Delhi, | 28 May, 2015
Hitting back at Sonia Gandhi for her sharp attacks on him, Prime Minister Narendra Modi on Wednesday suggested that she had been an "unconstitutional" authority exercising "real" power over the PMO during the UPA rule whereas power was now wielded only by constitutional means.
Dismissing the Congress President's accusation that NDA government was showing "obstinate arrogance" in Parliament and that it was a government by "one person", Modi said, "Perhaps, she is referring to the fact that earlier extra-constitutional authorities were the ones really wielding power".
He went on to say that power was now "wielded only by constitutional means". If the charge is that "we are working through constitutional channels and not listening to any extra constitutional authorities, then I plead guilty to that charge."
His sharpest attack yet on both Sonia and Rahul Gandhi came in the course of an interview to PTI during which he also answered questions on "concentration" of power in the Prime Minister's Office (PMO), minorities, NGOs, land acquisition and GST bills, economic reforms and a wide variety of other topics.
Asked about the criticism that all powers were concentrated in the PMO, Modi responded, "Your question is loaded. It would have been better if this question had been asked when an unconstitutional authority was sitting above the constitutional authority and exercising power over the PMO".
He emphasised that "the Prime Minister and the PMO are very much part of the constitutional scheme, not outside it".
Countering Rahul's "suit-boot ki sarkar" jibe, Modi said that the Congress had not been able to "digest" its crushing defeat in Lok Sabha polls even after one year.
"The people have punished them for their sins of omission and comission. We thought they would learn from this, but it looks as though they are proving right the earlier saying that if con is the opposite of pro, then Congress is the opposite of progress," he said.