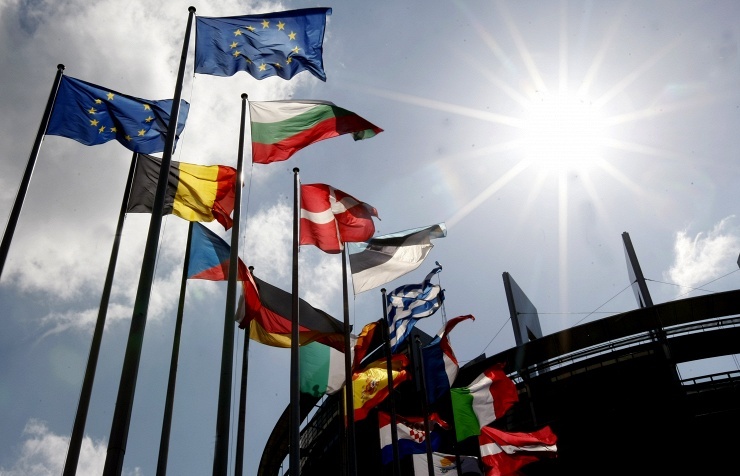 An international conference on the prospects for a resumption of ties between the EU and Russia will be held in the European Parliament.
The conference has been organized by the caucus of socialist and democratic MEPs. Russia will be represented by Alexey Pushkov, the chairman of the State Duma foreign policy committee, Mikhail Fedotov, the chairman of the Presidential Council for Civic Society and Human Rights, Andrey Kelin, the chief of the Russian Foreign Ministry's department for pan-European cooperation, Alexey Gromyko, the director the Institute for European Studies at the Russian Academy of Sciences, and Russia's ambassador tot the EU, Vladimir Chizhov.
The organizers expect participation by the Chairman-in-Office of the Organization for Security and Cooperation in Europe, Ivica Dacic, the EU High Representative for Foreign and Security Policy, Federica Mogherini, European parliament President Martin Schultz, and the president of the caucus of socialists and democrats, Gianni Pittella.
"Geographically, Russia and the EU are destined to cooperate intensively and the sooner this cooperation is restored, the better the situation will be for all the parties engaged in it," Ambassador Chizhov said.
The organizers of the conference stress the importance of restoring dialogue, economic cooperation and human rights all across Europe. They point out global security and struggle with terrorism as the areas where coordinated strategies on the part of the EU, Russia and other European countries are required.
Participants in the conference hope to issue a declaration where they will urge Russia and the EU to restore relations. As the first step towards it, they recommend both sides should drop off all the parliament deputies from the EU blacklist and from the Russian Foreign Ministry's visa stop list.
The draft declaration also contains a recommendation to organize a new Helsinki-format summit wherein the heads of 33 states and/or governments would take place for a review of the relations of security and cooperation in Europe.
The Helsinki Act adopted in 1975 became one of the cornerstone acts that laid down the basic principles of European security for decades ahead. The list of the principles included the inviolability of borders, territorial integrity, and noninterference in the domestic affairs of foreign countries.
The act also envisioned the buildup of measures of trust between NATO and Warsaw Treaty countries and declared peaceful settlement of all the disputes.
In addition to it, the Helsinki Act embraced international cooperation in the economy, culture and science.