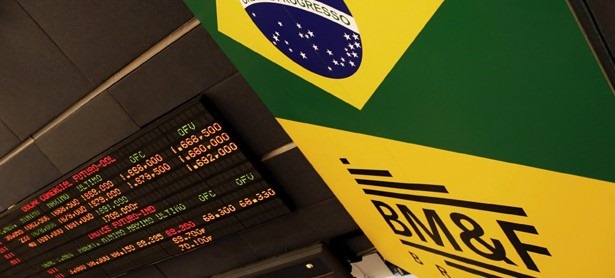 Brazil's real strengthened Wednesday, and stocks advanced for a second straight day, as a rally in commodities outweighed concerns that new Finance Minister Nelson Barbosa will fail to shore up the government's finances.
The Ibovespa stock index added 1.25% as more than two stocks gained for every one that fell.
Meanwhile, the S&P GSCI index of commodities climbed the most in seven weeks as industrial metals and oil advanced. Raw-material producers account for about a fourth of the Ibovespa's weighting.
The currency rose 0.8% to 3.958 per dollar at 4:06 p.m. in Sao Paulo.
Oil rallied for a second day after falling to a decade low Monday, and the price of iron ore, which Brazil exports, held at a three-week high after China signaled plans to add to its stimulus efforts.
Barbosa told reporters Tuesday that President Dilma Rousseff's administration has no plans to relax next year's fiscal target, without specifying how his team will achieve its goals if lawmakers block legislation to raise taxes.
Eight of the 10 best-performing stocks on the benchmark index Wednesday were raw materials producers.
"The mood is much more positive in the world today, and that is benefiting Brazilian assets," said Vitor Suzaki, an analyst at brokerage Lerosa Investimentos.
Barbosa, appointed on Friday, inherits a deepening economic crisis marred by political turmoil, falling commodities prices and investor skepticism.